Quick Take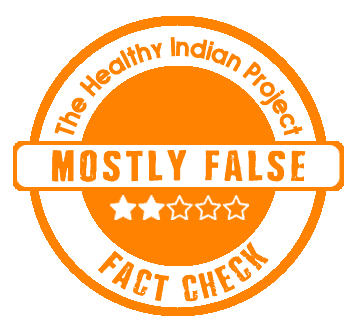 A social media post refers to a lab study and suggests that "allow yourself to get more sun on your skin each week… to build up a natural 'sunscreen' rather than using sunless tanning option."
We fact-checked and found this claim to be mostly false.
The Claim
A social media post shares a snap of a study, which reads, "Dihydroxyacetone, the active browning ingredient in sunless tanning lotions, induces DNA damage, cell-cycle block, and apoptosis in cultured HaCaT keratinocytes.
Anita B Petersen et al. Mutat Res. 2004."
The caption of the post reads, "Did you know that spray tans and sunless tanning lotions/serums change your DNA?! It's true! A study conducted in 2004 found that the main ingredient, dihydroxyacetone changes your DNA when applied.
Summer is quickly approaching. We highly suggest strategically allowing yourself to get more sun on your skin each week leading up to summer to avoid burning and as a way to build up a natural 'sunscreen' rather than using sunless tanning option. How does this information make you feel? Will you continue to use sunless tanning/spray tans?"
Fact-Check
How does sunless tanning work?
According to the FDA, with the help of a chemical, dihydroxyacetone (DHA), sunless tanning gives a faux glow by coating your skin with it. Dihydroxyacetone interacts with the dead surface cells in the epidermis (outermost layer of your skin) to darken skin color and produce a tan.
Is sunless tanning safe?
No. Harvard Health states that "sunless tanning makes your skin look tanned without exposing it to the sun's harmful ultraviolet (UV) radiation. When you sunbathe, UV rays cause the skin to increase its production of the protective pigment melanin, which manifests itself as a tan. A tan is actually a sign of skin cell damage, increasing the risk for skin cancer and accelerating skin aging."
Is sunless tanning more dangerous than sun exposure?
No. There is no safe tan. The American Cancer Society states that UV lights, either from the sun or from tanning devices, have been proven to be carcinogenic.
Cancer Research UK states, "Too much UV radiation from the sun or sunbeds can damage the DNA in our skin cells. DNA tells our cells how to function. If enough DNA damage builds up over time, it can cause cells to start growing out of control, leading to skin cancer."
FDA states, "Some advocates argue that artificial tanning is less dangerous because the intensity of light and the time spent tanning are controlled. There is limited evidence to support these claims."
Can Dihydroxyacetone alter your DNA?
Not yet proven. There is no scientific evidence that demonstrates that the application of DHA in sunless tanning products on human skin causes any DNA damage. The data currently present on dihydroxyacetone (DHA) which states that it causes DNA damage is on cell culture in the laboratory. The long-term clinical consequences of treatment of the skin with DHA are still unknown and need further studies.
The FDA allows DHA to be "externally applied" for skin coloring, but with certain restrictions. It should not be ingested, inhaled, or exposed to areas such as the lips, nose, and areas in and around the eye (from the top of the cheek to above the eyebrow) because the risks are unknown.
The FDA approved dihydroxyacetone (DHA) for external application to the human body in 1973. The Code of Federal Regulations for dihydroxyacetone reads "Dihydroxyacetone may be safely used in amounts consistent with good manufacturing practice in externally applied drugs intended solely or in part to impart a color to the human body. Authorization for this use shall not be construed as waiving any of the requirements of section 505 of the act with respect to the drug in which it is used."
Dr. Jyothy Kannangath, Dermatologist states, "Occasional use of sun tanning products is safe, provided they are used with adequate protection of eyes, nose, and mouth. Animal studies show damage to DNA, especially when these products enter the lungs. There is also evidence of deeper penetration of the skin layers. Because of these reasons, regular use of sunless tanning products, especially DHA, is not recommended."
Therefore, until there are scientific shreds of evidence that can prove that sunless tanning is more dangerous than sun-exposure and it can alter human DNA, the claim remains mostly false.
Disclaimer: Medical Science is an ever evolving field. We strive to keep this page updated. In case you notice any discrepancy in the content, please inform us at [email protected]. You can futher read our Correction Policy here. Never disregard professional medical advice or delay seeking medical treatment because of something you have read on or accessed through this website or it's social media channels. Read our Full Disclaimer Here for further information.