Can maternal diet during pregnancy determine her baby's skin color?
No. Although the mother's diet is important for the baby's overall health and development, genetics determine the child's constitutive skin color.
Quick Take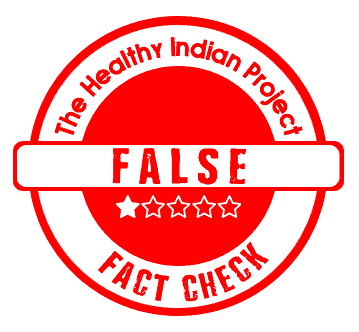 According to a social media post, the mother's diet can have an impact on her child's skin color. We verified the claim and discovered that it is False.
The Claim
According to a social media post titled "Best Food During Pregnancy For A Fair Baby," foods such as coconut water, avocado, saffron milk, oranges, sweet potatoes, and berries, if consumed during pregnancy, would help have a baby with a fair complexion.
Fact Check
Does pregnancy nutrition influence foetal development?
Yes. Nutrition is crucial during the foetal development period. This is due to the fact that it has the potential to predict lifetime disease risk and could be modified. It should be underlined that poor maternal nutritional status has been linked to abnormal fetal growth patterns, such as low birth weight. Furthermore, eating a healthy diet before and during pregnancy has been associated with a lower risk of pregnancy complications such as gestational diabetes mellitus, preterm birth, obesity-related complications, and, in some populations, preeclampsia and gestational hypertension. As a result, nutrition therapy has a significant impact on the child's healthy growth and development. Hence, comprehensive guidelines outlining women's nutritional needs from conception to lactation are essential.
When we asked nutritionist Nidhi Sarin if the mother's diet could affect foetal growth, she said that, "A nutrient-rich maternal diet before and during pregnancy is associated with better foetal health, especially in terms of foetal development, birth weight, and maternal and infant survival rates. Thus, women should consume a diet high in protein, iron, calcium, and vitamins while pregnant to benefit both foetal development and the child after birth."
Can a mother's diet during pregnancy influence her child's skin color?
No, there is no concrete evidence. Human skin is available in a variety of tones and colors. There are numerous factors that influence skin color, but genetics determines constitutive skin color. The enzyme tyrosinase is primarily responsible for the genetic mechanism that controls human skin color. Melanin, the primary determinant of human skin color, is produced in the skin by melanocytes. Thus, it should be noted that the genes that determine skin color are controlled by melanin quantity and quality. This genetic mechanism is reinforced by facultative melanogenesis and tanning reactions. Vitamin D, like melanin, has been shown to regulate cellular proliferation and differentiation in a variety of tissues, including the skin, which may influence skin color.
Although the infant's skin color varies between 25 and 44 weeks of gestation, the dark red color of premature infants is due to blood and vasculature visible through thin, translucent skin, which changes to pink under genetic influence, resulting in decreased pigmentation in 37 to 42 weeks. Besides that, functional maturation of the skin during neonatal and early childhood continues until the second year of life. Nonetheless, our research found no evidence that the maternal diet influences this skin color variation of the infant.
When asked about the impact of the mother's diet on the child's complexion, Nidhi Sarin explained that, while some people believe that eating coconut in the morning will give your baby a fair or light complexion, it is a myth that a mother's food improves a baby's complexion because it is entirely dependent on genetics.
Why is newborn skin health so important?
It is worth noting that newborn infants rely on their skin for structural integrity, mechanical trauma resistance, thermal regulation, and sensory transduction. Since newborn skin is more fragile, more susceptible to infections, has a high risk of heat loss, and a high permeability to toxic topical agents, thus, newborns, particularly pre-term babies, require special skincare to protect them from chemical and thermal damage.
THIP MEDIA TAKE: We conclude that fetal skin color is mainly determined by genetic factors. Furthermore, maternal nutrition affects the baby's growth and development, including skin health. However, it has no effect on the baby's skin color. Thus, the assertion is false.
Disclaimer: Medical Science is an ever evolving field. We strive to keep this page updated. In case you notice any discrepancy in the content, please inform us at [email protected]. You can futher read our Correction Policy here. Never disregard professional medical advice or delay seeking medical treatment because of something you have read on or accessed through this website or it's social media channels. Read our Full Disclaimer Here for further information.