Quick Take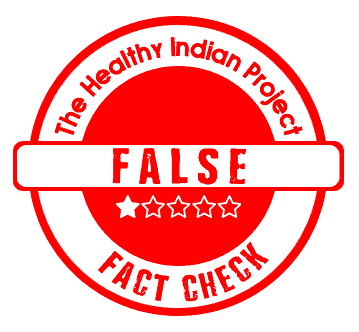 A social media post claims that a baby's immune system can't handle 8 different antigens (presumably in a vaccine) in one day. The narrator compares this to the introduction of food and states that when introducing food they should be fed 1 by 1 to catch an allergic reaction; you might be brainwashed. We fact-checked and found this claim to be False.
The Claim
A social media post reads, "If you think a baby's immune system can safely handle 8 different antigens (toxins, bacteria, DNA) in 1 day but when introducing food they should be fed 1 by 1 to catch an allergic reaction, you might be brainwashed."
Fact Check
Can the introduction of several vaccines (antigens) in a day hamper a body's immune system?
No. An infant's immune system can safely cope with receiving several vaccines at once and/or being challenged by multiple antigens on the same day.
The UNICEF clarifies this by stating, "Many parents worry that multiple vaccines will overload their child's immune system. But children are exposed to hundreds of germs every day. In fact, a common cold or sore throat will put a greater burden on your child's immune system than vaccines."
The CDC states that certain vaccines are recommended at a young age in order to protect young children from dangerous infectious diseases. Some vaccines are offered as combination vaccines (Two or more different vaccines that have been combined into a single shot are called combination vaccines) so that the number of visits to the doctor is reduced. Often, more than one shot will be given during the same doctor's visit, usually in separate limbs (e.g., one in each arm)."
The CDC further states that getting multiple vaccines at once usually can't cause chronic health problems. Several studies have been conducted to find the effects of vaccinating at once. Sometimes, certain combinations of vaccines can cause temporary symptoms such as fever, but they can't force lasting damage. The Advisory Committee and the American Academy of Pediatrics recommend getting all routine childhood vaccines on time.
It's unclear the basis for the post's claim that there are "8 antigens" in childhood vaccines.
Can introducing foods one by one to an infant hamper an infant's immunity?
No. There is no scientific evidence that proves the introduction of food one by one to an infant can hamper the immune system. Instead, it will help the parents and doctor determine any food allergies if present.The CDC asks the parents to let their child try one single-ingredient food at a time at first to see if their child has any problems with that food, such as food allergies. One must wait for at least 3 to 5 days between each new food. In this way, a child will be on a new diet, and the parents will also be aware of the allergies.
Pediatrician Dr. Vikalp Tomar, Max Hospital, Dehradun, says, "Vaccines are either weakened or inactive parts of a microorganism, which is called an antigen. It triggers an immune response within the human body. 
Newer vaccines don't contain the antigen. They have the blueprint for producing antigens. This weakened version won't be a causative agent of the disease. It will bring their immune system to respond much as it would on its first reaction to the pathogen. There is a subset of food allergies and intolerance. They are separate entities that sometimes prompt food introduction tests."
Hence, neither part of the claim regarding the immunity of an infant holds any scientific evidence. Therefore, the entire claim will be considered false.
Disclaimer: Medical Science is an ever evolving field. We strive to keep this page updated. In case you notice any discrepancy in the content, please inform us at [email protected]. You can futher read our Correction Policy here. Never disregard professional medical advice or delay seeking medical treatment because of something you have read on or accessed through this website or it's social media channels. Read our Full Disclaimer Here for further information.