Quick Take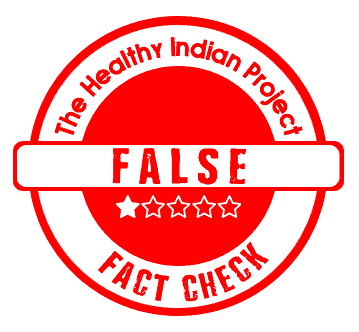 A social media post claims that skipping breakfast can reverse ageing. We did a fact-check and found the claim to be False.
The Claim
"Hard to believe, but skipping breakfast can reverse ageing. Calorie restriction and intermittent fasting can help increase growth hormones and lower your insulin levels" claims a social media post. The post can be seen here.
Fact Check
What is ageing?
Ageing is a gradual decrease in physical and mental health that may increase the risk of disease and ultimately death. The World Health Organization (WHO) suggests that ageing at the biological level is the accumulation of molecular and cellular damage over time.
How does ageing affect the skin?
Ageing reduces elasticity to cause wrinkles, rough-textured and saggy appearance. Research notes, "This ageing process is accompanied with phenotypic changes in cutaneous cells as well as structural and functional changes in extracellular matrix components such as collagen and elastin".
Can ageing be reversed?
The natural process of ageing cannot be reversed. There are factors such as genes, environment and lifestyle choices on which ageing mostly depends. The damage already made by these factors are irreversible.
But we can slow the natural process of ageing. The National Institute on Aging (NIA) website claims, "Studies have demonstrated that the rate of ageing can be slowed, suggesting that targeting ageing will coincidentally slow the appearance and reduce the burden of numerous diseases to increase the portion of life spent in good health".
The American Academy of Dermatology Association (AAD) website suggests ways to reduce premature skin ageing. However, the website strongly recommends you see a dermatologist.
Can diet stop or reverse ageing?
No. Diet cannot stop or reverse ageing.
Dr Saurabh Gaba, Associate Consultant, Internal Medicine, Paras Hospitals, Panchkula, says, "There is no scientific evidence for it. However, it is a healthy practice to limit overall food intake to maintain an ideal body weight."
A nutritional diet is closely associated with skin health right from youth to ageing or disease. A study has shown that it is important to eat a diet that meets your nutritional demand as eating habits can either repair damaged skin or cause damage to the skin. But researchers note that, "Only oral supplementation is not enough to improve the skin" and "Improvement in skin aging through diet should not be rushed, because skin aging caused by diet and improvement of aging performance by diet are long-term processes."
Can we undergo calorie restriction and intermittent fasting by skipping breakfast to reverse ageing?
No. Calorie restrictions or fasting cannot reverse ageing.
Some studies show that calorie restriction can "reduce aging-associated biomarkers in humans," but there is no research that establishes that the process of ageing can be reversed.

On the topic of Intermittent fasting being helpful to overall health, Dr Smriti Naswa, Consultant Clinical, Pediatric & Cosmetic Dermatologist, Fortis Hospital, Mulund, Mumbai, says, "The meal timings are equally important for health as the quality & quantity of food. Late dinners followed by skipping breakfasts in the name of intermittent fasting doesn't lead to long-term health. And there is no way a fasting diet plan can reverse a natural process like ageing."
Dr Sujata Chakravarti, Consultant-General Medicine, Hiranandani Hospital, Vashi-A Fortis Network Hospital further adds," Skipping breakfast can actually be harmful, and can increase risk of Diabetes, weight gain, Acid Reflux, and Migraines. It also reduces productivity since after fasting overnight hypoglycemia occurs, leading to reduced concentration, jitters, etc."
Disclaimer: Medical Science is an ever evolving field. We strive to keep this page updated. In case you notice any discrepancy in the content, please inform us at [email protected]. You can futher read our Correction Policy here. Never disregard professional medical advice or delay seeking medical treatment because of something you have read on or accessed through this website or it's social media channels. Read our Full Disclaimer Here for further information.