Quick Take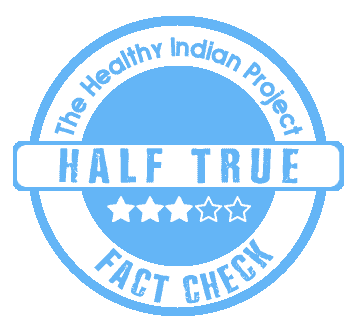 Few social media posts claim that Pomegranate can unclog arteries and reverse cardio-vascular disease. We fact-checked and found that the claim is half true.
The Claim
"Pomegranate is proven to unclog arteries," claims an Instagram post. The post further notes, "pomegranate has been shown to prevent- and even reverse-cardiovascular disease." Similar posts can be seen here and here. A screenshot is given below.
Fact Check?
Why do arteries get blocked?
Arteries carry oxygen-rich blood from the heart to all parts of your body. Wide open arteries allow blood to move quickly and freely in the body.
The build-up of fibrous and fatty material inside the arteries make the path narrow and the result is blocked arteries.
Dr Amit Bhushan Sharma, Associate Director and Unit Head, Cardiology, Paras Hospitals, Gurugram, says, "Brain stokes, heart strokes, angina, and peripheral artery disease can be caused by blocked arteries. When a particle of plaque breaks off and becomes lodged in the bloodstream, blood flow is reduced, which can result in a heart attack or stroke."
Can pomegranate juice unclog arteries?
Yes. Research has shown that pomegranate can be beneficial in clearing plaque from blood vessels.
In fact, research has shown that not only pomegranate but multiple plant based diets can help in stopping the development of plaque in blood vessels.
Medical professionals believe a healthy diet of fruits, vegetables, whole grains, lean meats, skinless chicken, seafood, and fat-free or low-fat dairy products can help in preventing the development of plaque in arteries.
However, neither pomegranate, nor any other diet is known to be able to cleanse blood vessels completely. It is almost impossible to remove plaque from blood vessels without medical intervention.
Is it safe to depend on diet to clear plaque from arteries?
Preventing development of plaque from arteries needs a combination of healthy diet, losing weight, being physically active, and not smoking.
However, once artery blockage has been diagnosed, medical intervention like angioplasty or putting a stent maybe the only option depending on the severity of the disease.
Dr. Sharma adds, "When plaques grow up inside a person's arteries, they might get clogged, restricting blood flow. Individual foods cannot remove these plaque from the arteries. But a healthy diet can aid in the management and prevention of heart disease. Statins have a pleotropic effect, which means they prevent brain and heart strokes by regressing plaque and transforming it from thin to thick cap, avoiding plaque rupture."
Disclaimer: Medical Science is an ever evolving field. We strive to keep this page updated. In case you notice any discrepancy in the content, please inform us at [email protected]. You can futher read our Correction Policy here. Never disregard professional medical advice or delay seeking medical treatment because of something you have read on or accessed through this website or it's social media channels. Read our Full Disclaimer Here for further information.