Are peel off masks helpful in acne?
Not really. Acnes are developed due to hormonal imbalance. The peel-off mask penetrates deep into your pores and gently removes the dead cells in the outermost layer of your skin. It is harmful as it strips off your skin's first line of defense against pollution, acne and many other irritants.
Quick Take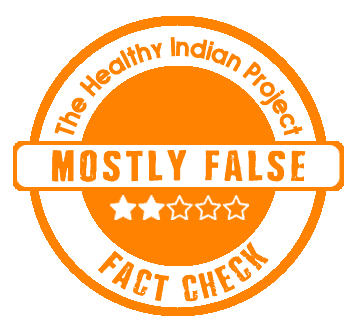 A post on Twitter claims that a peel-off mask can treat acne, wrinkles and pimples. We fact-checked and found this claim to be Mostly False.
The Claim
A social media post endorsing a charcoal activated peel-off mask claims that a peel-off mask can treat various skin issues, such as acne, wrinkles, and pimples.

FACT CHECK
What causes Acne?
There are various causes of acne, which can differ from person to person.
As stated by Harvard Health Publishing, acne is developed because of a combination of factors: the production of too much oil in the skin, clogged skin pores, bacteria in the skin, and inflammation. A range of factors triggers acne, but the leading cause is considered to be hormonal imbalance, such as high androgen levels. Few studies suggest that genetic factors may increase this risk. Other vital factors include diseases such as polycystic ovary syndrome(PCOS), pollution, smoking, and stress. Some medications can cause acne too (especially steroids and lithium), and greasy cosmetics such as hair products, makeup, and other products we put on our skin can also contribute to clogged pores, thus leading to acne. 
What is the etiology behind wrinkles?
Wrinkles are creases, folds, or ridges in the skin which appear naturally as people get older. As a person gets old, the skin becomes thinner and less elastic over time. However, certain other factors such as sun exposure, smoking, dehydration, some medications and environmental and genetic factors also play a vital role.
What are the side effects of using such peel-off masks?
Peel-off masks, such as charcoal masks, can harm the skin in various ways. It can even cause contact dermatitis from the chemicals and ingredients in them. Excessive use can make your skin lose its elasticity, ultimately leading to sagging skin.
Also, it shall not be used by people with sensitive skin as it can make the skin even more sensitive, making it prone to redness, breakouts, dry patches or overall dull skin. Also, suppose a person is having a predisposing skin condition such as eczema, rosacea, or acne. In that case, it makes him/her more likely to experience an adverse reaction to peel-off masks. Lastly, some peel-off masks also have polyvinyl alcohol, a type of plastic adhesive in their formulation, which can make your skin more sensitive.
Can peel-off masks treat acne, pimples and wrinkles?
Not necessarily. There is a lack of credible evidence proving that peel off masks, such as charcoal can cure pimples and acne or can reduce wrinkles. Acne is a disorder of the hair follicles and sebaceous glands which is caused due to some underlying condition. Until and unless the underlying condition is treated, it will reoccur. Also, the tug and pull can be harsh on active acne and may even exacerbate it. 
Similarly, no scientific evidence proves that such masks can reduce wrinkles. As mentioned above, wrinkles mostly happen naturally. Certain treatment modalities that may help to reduce the fine lines include medications such as retinoids, dermabrasion, botox, fillers, etc.
Lastly, it may help in unclogging and purifying your pores, making them visibly smaller, but the pore size is mostly a result of your genetics, and it is not possible to shrink them permanently.
In conclusion, the peel-off mask, such as the black mask, penetrates deep into your pores and gently removes the dead cells in the outermost layer of your skin, along with any impurities sitting over it, making the skin cleaner by removing the dirt, bacteria, and debris. However, it must be noted that the process of peeling off the mask is not safe as it strips away the surface layer of the skin. Therefore, due to a lack of credible scientific evidence, the claim is mostly false.
Disclaimer: Medical Science is an ever evolving field. We strive to keep this page updated. In case you notice any discrepancy in the content, please inform us at [email protected]. You can futher read our Correction Policy here. Never disregard professional medical advice or delay seeking medical treatment because of something you have read on or accessed through this website or it's social media channels. Read our Full Disclaimer Here for further information.