Quick Take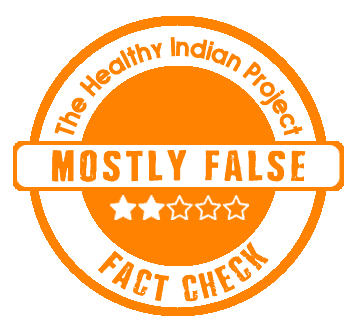 A social media post under the caption 'food as medicine' displays onions as a medicine for Asthma. We fact-checked and found this claim to be Mostly False.
The Claim
A post on Facebook with the caption 'Food as medicine' displays onions as a medicine for Asthma. It further mentions that onions can help ease the constriction of bronchial tubes. The screenshot of the post is attached below:
Fact Check
What is Asthma?
Asthma is an inflammatory disorder that causes excessive sensitivity of the airways against a triggering factor. This leads to inflammation and narrowing of airways causing difficulty in breathing.
What are the causes of Asthma?
There is no definitive cause of asthma, but available research papers have shown that environmental and genetic factors contribute to disease development.
Genetic factors: Various genes have been linked to increased susceptibility to the risk factors of Asthma.
Environmental factors: Many substances, called allergens, are present in the environment and cause airways inflammation. The most common triggers are pollen, dust, fungal spores, pet fur, etc.
How is Asthma treated?
The treatment of Asthma depends on whether we are treating an attack or designing a long-term treatment:
Treatment for an acute attack:
Short-Acting Beta Agonists (SABA) like salbutamol can be given under the supervision of doctors. Steroids like Beclomethasone are prescribed to decrease inflammation on an immediate basis. (Both of these medications are given in the form of inhalers).
Long-term preventative treatment:
Medicines which prevent the inflammatory chemical release like Mast cell stabilizers, Leukotriene antagonists, etc., can be administered. Long-term bronchodilators are also prescribed. (These are usually given via oral route).
Furthermore, attacks can be minimized by avoiding trigger allergens, avoiding smoking, maintaining a healthy weight, getting vaccinated with the latest flu shots, avoiding rigorous workouts in case of exercise-induced asthma and changing professions in case of occupational asthma.
Can onions be used as a medicinal agent in curing asthma?
No. There is no scientific evidence proving that onions can be used as a medicine for asthma. Even though onions are known for their anti-inflammatory properties and help in clearing the airways, according to the American Lung Association, "one must avoid foods that cause gas or bloating, which often makes breathing more difficult. This may cause chest tightness and trigger asthma flare-ups. Foods to avoid include beans, carbonated drinks, onions, garlic and fried foods."
Moreover, few people with asthma have a problem with certain foods triggering their asthma symptoms. According to Asthma + Lung UK, "This is usually because:
they're allergic to certain foods, and the allergic reaction sets off their asthma symptoms
they're sensitive to certain foods which trigger their asthma symptoms."
Therefore, one must not opt for substituting their proven medicine with onion.
Dr Muhammed Anas, Specialist of Pulmonary disease in Abu Dhabi, says, "Neither systematic reviews nor meta-analyses on the issue were found. A search on primary sources looking for randomised double-blind clinical trials yielded no study of quality, and no clinical study at all on the issue. Some studies related to the role of onion in asthma therapy showed the anti-asthmatic and anti-inflammatory effects of onions depend in part on the thiosulfinate moiety and inhibition of platelet-activating factor-induced bronchial obstruction by onion oils. Using technical language, we could conclude that there is not enough evidence to support (or discard) its efficacy and that more well-designed and appropriately powered clinical studies are needed to conclude."
Until now, no studies have proven that onion can cure Asthma. Further research is needed to reach a conclusive result.
Disclaimer: Medical Science is an ever evolving field. We strive to keep this page updated. In case you notice any discrepancy in the content, please inform us at [email protected]. You can futher read our Correction Policy here. Never disregard professional medical advice or delay seeking medical treatment because of something you have read on or accessed through this website or it's social media channels. Read our Full Disclaimer Here for further information.