Quick Take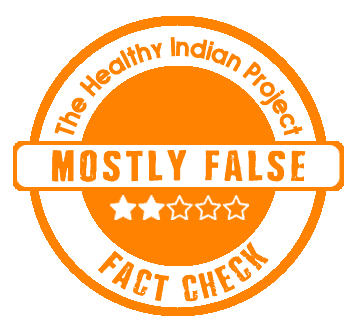 A number of social media posts claim that Omega-3 Fatty Acids can repair nerve damage in humans. We fact-checked and found that the claim is Mostly False.
The Claim
A lot of social media posts and articles on the internet claim, "Omega-3 fatty acids are nerve repairing superheroes." One post writes, "Omega 3's NOURISHES and REPAIRS the myelin sheath around the nerves." Similar claims can be found in YouTube. One such post can be seen here.
Fact Check
What are Omega-3 Fatty Acids?
Lipids are composed primarily of fatty acids. The body is capable of producing the bulk of these fatty acids. The body cannot synthesize essential fatty acids, so they must be consumed through diet. Therefore, omega-3 fatty acids are regarded as essential fatty acids. They include ALA (Alpha-Linolenic Acid, DHA (Docosahexaenoic Acid), and EPA (Eicosapentaenoic Acid). Plants that produce ALA include canola, flaxseed, and soybeans. The omega-3 fatty acids DHA and EPA are found in fish and fish oils. It should be emphasized that their principal responsibilities include carrying out cellular and structural functions as well as managing the fluidity of the cell membranes.
Do omega-3 fatty acids benefit brain health?
Yes. Omega-3 fatty acids play a critical role. They offer a variety of strong benefits for the wellbeing of your body and mind. The fact that patients with psychiatric issues have low levels of omega-3 fatty acids should be emphasized. This has been amply supported by numerous studies. Supplements containing omega-3 fatty acids may help treat and prevent depression and anxiety. They also promote higher intelligence levels, enhance social and communication abilities, and address behavioral issues. Additionally, this might lower the risk of cerebral palsy, autism, and ADHD. They not only increase concentration but also reduce impulsivity, hyperactivity, and aggression. Remember that further studies are required to determine the relationship between omega-3 fatty acids and brain function.
Do omega-3 fatty acids have any negative impacts?
Yes. It is imperative to keep in mind that taking too many essential fatty acids may have adverse effects on the body. According to certain studies, supplementing with large doses of omega-3 fatty acids may cause blood sugar levels to rise. Additionally, it could cause low blood pressure, diarrhea, and blood thinning. Moreover, there are reports of sleeplessness and heartburn. Omega-3 fatty acid supplements also contain a lot of vitamin A, which is toxic if ingested in large doses.
Can Omega-3 Fatty Acids repair nerve damage in humans?
No, not for now. It should be noted that for a long time, it was not believed that diet could affect brain structure and, in addition, its function. However, there is now evidence that the deficiency of dietary omega-3 fatty acids may have an impact on the composition and function of membranes. Also, ALA insufficiency has also been shown to affect brain development. ALA deficiency also impairs the structural characteristics of neurons, brain cell membranes, and other cells. Omega-3 fatty acids from food have also been associated with protection against neuropsychiatric conditions like Alzheimer's and depression. Despite our thorough research, we were unable to find any solid evidence suggesting that dietary omega-3 fatty acids repair human nerve damage.
We asked Dr. Abhishek Juneja, Neurologist, about the potential of omega-3 fatty acids to repair nerve damage. Dr. Juneja responded that although Omega-3 fatty acids have been demonstrated in numerous animal studies to help nerve damage be repaired. However, more investigation is necessary to ascertain their possible function in repairing human nerves.
THIP MEDIA TAKE: EFAs influence the health and functionality of our brains. In addition, they also address neuropsychiatric illnesses. However, despite thorough research, we were unable to uncover any definite evidence of the contribution of omega-3 fatty acids to the repair of nerve damage. As a result, the assertion is mostly false.
Disclaimer: Medical Science is an ever evolving field. We strive to keep this page updated. In case you notice any discrepancy in the content, please inform us at [email protected]. You can futher read our Correction Policy here. Never disregard professional medical advice or delay seeking medical treatment because of something you have read on or accessed through this website or it's social media channels. Read our Full Disclaimer Here for further information.