Quick Take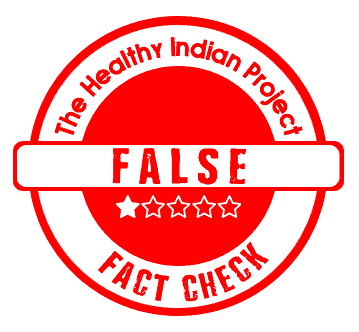 An MRI image is circulated on social media with the claim that it shows how Oxytocin and Dopamine hormones are generated in a child's brain when his mother kisses on forehead. We fact-checked and found that the claim is False.
The Claim
"Neurologist Rebecca Saxe presented most beautiful image of an MRI captured when a mother kissed her two-month-old son. The lips placed on his head trigger a reaction in his brain. Dopamine is released, which gives us feeling of well-being, but also oxytocin, called 'love hormone'," writes the social media users who shared the photo. Such posts can be seen here and here. A screenshot is shared below.
Fact Check
What is Oxytocin and Dopamine?
Oxytocin is a peptide hormone and neuropeptide normally produced in the hypothalamus and released by the posterior pituitary. It plays a role in social bonding, reproduction, childbirth, and the period after childbirth.
Dopamine is a neurotransmitter and an important brain chemical that influences your mood and feelings of reward and motivation. It is also known as a 'feel good' hormone.
Does the MRI scan show Oxytocin and Dopamine in a child's brain?
No. The red spots in the MRI image does not show Oxytocin and Dopamine.
The magnetic resonance image (MRI) was taken by Dr. Rebecca Saxe, cognitive neuroscientist in MIT in 2015. She took the image of herself kissing her son. The image was not taken for any medical diagnosis. Dr. Saxe wrote on Smithsonian magazine that she and her collaborators took the image "because we wanted to see it."
The actual image given below, as published by Dr. Saxe, had no red dots marked to denote any Oxytocin or Dopamine level.
Once the altered image with red dots went viral with a false claim, Dr. Saxe issued a clarification on Twitter and denied that the image had anything to do with oxytocin, hormones, kissing, or breastfeeding.
Can Oxytocin levels be measured in a brain?
No. Not yet.
Measuring Oxytocin levels in brain had been an active area of research by scientists for many years. However, no conclusive evidence has been found on any procedure being foolproof. In a recent review done about the matter, researchers note, "The widely varying oxytocin concentrations detected by different approaches to measurement – and lack of correlation among these techniques – has led to controversy and confusion."
Disclaimer: Medical Science is an ever evolving field. We strive to keep this page updated. In case you notice any discrepancy in the content, please inform us at [email protected]. You can futher read our Correction Policy here. Never disregard professional medical advice or delay seeking medical treatment because of something you have read on or accessed through this website or it's social media channels. Read our Full Disclaimer Here for further information.