Can mouth ulcers be effectively treated with apple cider vinegar?
No, not really. Although apple cider vinegar exhibits antimicrobial characteristics that could aid in bacterial toxin elimination from the oral ulcerative lesions. However, its acidic nature and lack of efficiency against all kinds of mouth ulcers, it is not recommended as a treatment for oral ulcers.


Quick Take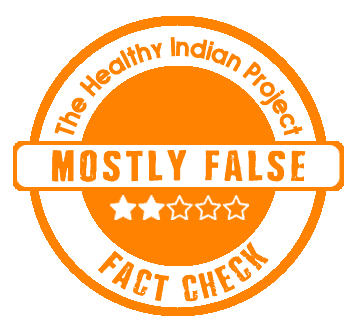 According to a YouTube video, mouth ulcers can be treated at home with an ingredient like apple cider vinegar. We confirmed the assertion, and the findings of our research indicate that it is Mostly False.
The Claim
A YouTube video titled "Five Effective Home Remedies for Mouth Ulcers" suggests that rinsing your mouth with diluted apple cider vinegar could be a successful method of treating mouth ulcers.
Fact Check
What precisely are mouth ulcers?
Oral lesions such as mouth ulcers or sores usually cause harm to the mouth's inner lining. The causes, frequency, and size of these oral ulcerative lesions can vary. These lesions typically form in the soft tissue lining of your lips, tongue, inner cheeks, gums, or roof of your mouth. Cankers sores are usually the most common type of mouth ulcers. These ulcerations are typically uncomfortable and may make it difficult to eat, drink, or even speak. Their precise developmental cause is unknown, though. However, their main etiological factor has been identified as hereditary inheritance.
In addition, there are some influences that may act as catalysts for their development. These primarily consist of citrus fruits and other foods high in acidity or spices, dental braces, uncomfortable dentures, unfinished dental fillings, stress, anxiety, hormonal changes, specific allergens, insufficient sleep, and particular medications.
Is apple cider vinegar strong enough to get rid of mouth ulcers?
No, not really. Due to the rising antibacterial resistance to prescribed medications, home remedies are becoming more and more popular. Apple cider vinegar is an example of such a natural therapeutic. Please be aware that ACV has been hailed as a supplement helping with blood pressure reduction, elevated lipid and cholesterol levels, nutritional support, and antioxidant defense. Also, ACV organic acids have been used as dietary supplements and are safe to use in eradicating harmful intestinal bacteria.
And because of the antimicrobial characteristics of apple cider vinegar, it could be employed to eliminate the bacteria that cause ulcers. Nevertheless, apple cider vinegar has been a controversial treatment because it may sting the ulcer when applied and would not be effective for all kinds of mouth ulcers. Hence, it cannot be said to be the go-to all-natural cure for all kinds of mouth ulcers.
We asked Dr. Pooja Bhardwaj, our dental expert, about the effectiveness of apple cider vinegar in treating mouth ulcers. She cautioned that, while apple cider vinegar has antimicrobial properties that reduce the activity of bacteria, particularly Streptococcus or Actinomyces, which cause ulcers, it should be avoided. This could be due to the acidic pH of vinegar, which might irritate oral ulcers. Therefore, rather than relying on these archaic home remedies, one should seek professional help because the etiology may differ in each individual and, if untreated, can be a sign of other serious complications.
When should a patient with mouth ulcers seek medical care?
The majority of mouth ulcers, such as non-contagious canker sores, heal on their own in 1–2 weeks and don't usually require medical attention. By consuming plenty of water, using warm saline rinses, and avoiding spicy and hot foods, the pain could be lessened and the healing process could move more quickly.
It is never a good idea to ignore unusually large, uncomfortable mouth sores, especially if they persist for more than two weeks. Besides that, it is not advisable to rely on long-lasting mouth sores, particularly those associated with a high fever or diarrhea that cannot be treated at home and necessitates medical attention. Furthermore, mouth ulcers could be a sign of a number of different conditions, including HIV/AIDS, Behcet's disease, celiac disease, immune disorders, inflammatory bowel diseases, diabetes, and immune disorders.
THIP MEDIA TAKE: Typically, mouth ulcers are a non-contagious group of lesions. However, if painful or large lesions last longer than two weeks, they may be signs of a more serious condition that needs to be treated right away. Since it could be dangerous to rely solely on natural remedies like apple cider vinegar, we draw the conclusion that this claim is mostly false.
Disclaimer: Medical Science is an ever evolving field. We strive to keep this page updated. In case you notice any discrepancy in the content, please inform us at [email protected]. You can futher read our Correction Policy here. Never disregard professional medical advice or delay seeking medical treatment because of something you have read on or accessed through this website or it's social media channels. Read our Full Disclaimer Here for further information.