Can home remedies cure melasma?
Not really. Ingredients like lemon or apple cider vinegar are highly acidic in nature and can be harmful for skin. Internet offers a variety of home remedies that claim to treat melasma and pigmentation. One should always check with dermatologist before using any such ingredients.
Quick Take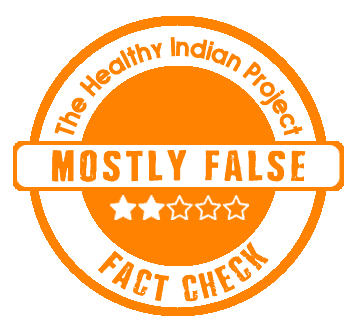 A social media post claims that Melasma can be treated at home by applying different home remedies, such as apple cider vinegar or lemon. We fact-checked and found this claim to be Mostly False.
The Claim
A Youtube post titled "How to Get Rid of Melasma on Face" and the caption, "Hyperpigmentation is also known as Melasma, it is a skin problem, especially on the face. In this video, I will share three natural home remedies to clear melasma. It is the best and free treatment of melasma at home. Watch the full video and subscribe to my channel. I hope you will like this video and all these remedies are work for you." shares a video in which the claimant depicts that melasma can be treated by applying lemon or a mixture of apple cider vinegar with water in equal amounts.
Fact Check
What is Melasma?
The American Academy of Dermatology defines Melasma as a skin condition that causes patches and spots, usually on the face, which is darker than your natural skin tone. Usually, it is characterized by gray-brown patches of skin discoloration on areas of the face exposed to the sun. It is an entirely harmless condition; however, it can make some people feel self-conscious and impact the quality of life of the patients.
Also, its cause is not yet completely understood, but there are some known triggering factors such as sun exposure, pregnancy, sexual hormones, inflammatory processes of the skin, and the use of cosmetics, steroids, and photosensitizing drugs.
How is melasma treated?
Treatment of melasma, such as creams, cannot make melasma disappear; however, it can help fade the discoloration. The most effective treatment is a sun protective agent and medications applied to the skin. Various treatment options are available, as listed below, to reduce discolouration; however, research states that the most effective and well-studied treatment options are Hydroquinone monotherapy and triple combination cream. Also, there is a high risk of adverse effects with chemical peels and laser- and light-based therapies, even though these treatment modalities are equal to or inferior to topical treatment options.
Dr. Swati Watwani, Medical Director, Co-Founder & Chief Consultant, Persianlily – Skin/Hair/Aesthetics/Ayurveda Clinic, says, "Melasma, Photomelanosis & post-inflammatory hyperpigmentation can be reduced with topical creams such as hydroquinone, tretinoin, topical steroids, alpha hydroxy acid creams, azelaic acid, arbutin, liquorice, kojic acid. If the condition doesn't improve with these medicines then other modalities should be used."
Can melasma be treated at home using agents such as lemon and apple cider vinegar?
No. There is no scientific evidence that proves that melasma can be treated at home using ingredients such as lemon or apple cider vinegar. These ingredients are highly acidic in nature and can irritate your skin. The skin irritation can worsen the melasma, eventually leading to the darkening of the spots which you were trying to lighten. Additionally, even though lemon is a good source of Vitamin C and is an antioxidant, using lemon directly on the skin is not recommended as the application of lemon can make the skin more susceptible to sun damage as citrus lemon is a photosensitizer (a chemical entity, which upon absorption of light, induces a chemical and physical alteration of another chemical entity), so it makes your skin much more susceptible to sun damage.
Dr. Watwani further elaborates by stating, "Nowadays Internet has no shortage of skin 'hacks' and DIY remedies. While some help to certain extent, others can be harmful as these are anecdotal claims and have not been supported by scientific review. Additionally, things like lemon juice and apple cider vinegar may make melasma worse."
She further elaborates and says, "The number of patients that visit dermatologists with pigmentary disorders is significant. Patients are often overwhelmed with numerous over-the-counter skin-lightening agents, many without clinical evidence of efficacy. Botanical and natural ingredients have become popular as depigmenting products. However, evidence-based studies on many of these agents are still lacking."
Disclaimer: Medical Science is an ever evolving field. We strive to keep this page updated. In case you notice any discrepancy in the content, please inform us at [email protected]. You can futher read our Correction Policy here. Never disregard professional medical advice or delay seeking medical treatment because of something you have read on or accessed through this website or it's social media channels. Read our Full Disclaimer Here for further information.