Quick Take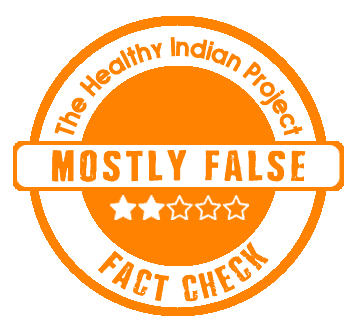 One of the suggestions in a social media post includes using a paste made of baking soda and lemon juice to whiten teeth. We verified the claim's accuracy. According to our analysis, the assertion is Mostly False.
The Claim
A social media post titled," Want A Dazzling Smile? Whiten Your Teeth with Baking Soda!", suggests that a paste made of baking soda and lemon juice could help whiten teeth. The screenshot has been shared below.
Fact Check
What does the phrase 'natural teeth whitening' mean?
The tooth's 'natural' color vary. And as time passes, they get darker. Additionally, stains due to excessive use of alcohol, tea, coffee, smoking, etc. may affect the color of the teeth and could stain the teeth's enamel, which is the outermost layer. The accumulation of plaque on your teeth can also give them a yellow appearance. Therefore, in this sense, 'whitening' is defined as any technique used to make teeth appear whiter. Additionally, these whitening compositions include both mainstream and natural remedies. It should be noted that abrasives' usefulness in teeth whitening is constrained by the risk of tooth wear. Therefore, the concept of natural teeth whitening was introduced.
Do baking soda and lemon juice work well together to whiten teeth?
Not exactly. According to a clinical trial, utilizing baking soda solely to remove plaque appears to be effective. Lemon juice does, however, erode away tooth enamel, which guards against dental disease. It should be emphasized that the enamel on your teeth does not grow back, regardless of the fact that baking soda's high pH tends to neutralize lemon juice's acidity. there is no substantial evidence, nevertheless, that baking soda completely balances the acidity of lemon juice. In addition, the ratio of the two ingredients in the homemade paste would always be doubtful.
We asked Dr. Pooja Bhardwaj (BDS), our dental expert, if a paste made of baking soda and lemon could be an effective teeth whitener. She
responded that there isn't enough scientific evidence to back up the claim. Although citrus fruits such as lemon contain D-limonene, a natural stain-removing solvent that may reduce minor extrinsic stains, its efficacy is questionable. This is because lemon juice, due to its acidic nature, can be corrosive and thus damage the protective enamel layer. This would eventually weaken the tooth structure, making it more susceptible to cavities. Furthermore, the basic nature of baking soda may not be very
beneficial. This is because its ability to neutralize the acidic lemon juice is
uncertain. However, it is always advised to speak with your dentist for
the best results.
Can you safely whiten your teeth at home employing natural remedies?
No, not always. Teeth could be whitened naturally using a variety of techniques. The majority of these treatments operate by delicately erasing surface stains from your teeth. However, the majority of dentists provide significantly more potent whitening procedures than these home alternatives. They entail whitening the teeth, which might be more successful for severely stained teeth. It should be remembered that using whitening products excessively can harm your teeth. Please consult your dentist regarding your prospects.
Disclaimer: Medical Science is an ever evolving field. We strive to keep this page updated. In case you notice any discrepancy in the content, please inform us at [email protected]. You can futher read our Correction Policy here. Never disregard professional medical advice or delay seeking medical treatment because of something you have read on or accessed through this website or it's social media channels. Read our Full Disclaimer Here for further information.