Can liver be detoxified by consuming a decoction made with onion, garlic, ginger and lemon?
To some extent. Limited scientific evidence supports the detoxification effects of a decoction made from onion, garlic, and lemon on the liver. Individually, these ingredients have potential liver health benefits, but the specific effects of their combined decoction on liver detoxification are not well-studied.

Quick take
A social media post claims that drinking lemon ginger garlic and onion cleanses the liver. We fact-checked and found this claim to be Half True.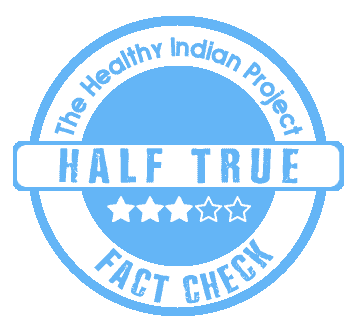 The claim
A Facebook page Simply Smoothie Diet that has 46K followers posted a reel that says "Hospitals will be empty when everyone knows that a single cup is enough to cleanse the liver and skin."
Fact Check
Is it possible to cleanse the liver with diet?
The answer is debatable. Detox diets lack robust scientific evidence to support their claims of promoting health, well-being, toxin elimination, and weight loss. Clinical studies on commercial cleansing diets have methodological flaws and small sample sizes, limiting their reliability. There is preliminary evidence suggesting certain foods may have cleansing properties, but most studies have been conducted in animals, not humans. No randomised controlled trials have assessed the effectiveness of commercial detox diets in humans. It's important for consumers to be aware of the limited scientific support for detox diets and approach them with caution. The human body has its own natural detoxification mechanisms, supported by a healthy lifestyle. More research is needed to understand the potential benefits and risks of home remedies cleansing diets.
Can the liver cleanse itself?
Yes! There are two stages of liver cleansing Phase I and Phase II. In Phase I, enzymes called cytochrome P450 mixed-function oxidases initiate biotransformation by modifying toxins into intermediate compounds. Phase II involves enzymes that perform conjugation reactions to convert the intermediate compounds from Phase I into less toxic and water-soluble substances. This conversion helps in their excretion from the body. It's important for Phase II enzyme activity to be in balance with Phase I to effectively eliminate these intermediates. Phase I can produce oxygen free radicals, which can cause oxidative stress on the liver. Adequate intake of antioxidants, such as vitamins C and E, and phytochemical compounds can protect the liver from free radical damage during Phase I. Overall, Phase I and Phase II are crucial for liver detoxification, with Phase II helping to neutralise and eliminate toxic substances.
Does a mixture of lemon onion, ginger and garlic aids liver cleansing?
While there is no direct evidence that a combination of ginger, garlic, and lemon helps with liver detoxification, studies have shown that these ingredients can support liver health. Garlic and onion contain compounds called thiol and allicin, which can activate liver cleansing enzymes and enhance the liver's ability to eliminate toxins. Lemon juice has been found to protect the liver from alcohol-induced damage by reducing oxidative stress and inflammation, improving liver function, and decreasing markers of liver injury. Ginger has shown potential benefits for liver health. It reduces liver inflammation and fat accumulation, which are characteristic of steatohepatitis. Ginger also decreases liver enzyme levels, triglycerides, and cholesterol in alcoholic fatty liver disease. However, more research is needed to fully understand the effects of these ingredients on liver detoxification, as it is a complex process involving multiple factors.
While these ingredients individually have been linked to liver health benefits, the specific effects of their combined decoction on liver detoxification have not been extensively studied. It's important to note that detoxification is a complex process involving various enzymatic pathways in the liver, and the impact of a decoction on these processes may vary.
Disclaimer: Medical Science is an ever evolving field. We strive to keep this page updated. In case you notice any discrepancy in the content, please inform us at [email protected]. You can futher read our Correction Policy here. Never disregard professional medical advice or delay seeking medical treatment because of something you have read on or accessed through this website or it's social media channels. Read our Full Disclaimer Here for further information.