Quick Take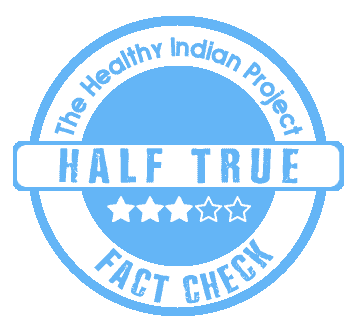 A number of social media posts and health blogs claim that eating Jaggery (Gur) and Chana will cure anaemia. We fact-checked the same and found that the claim is half true. Most of the people who make this claim miss an important context.
The Claim
"Gur Chana: It is a great example of dadi ma and nani ma's nuskas (age-old cures) for health and well-being that still work wonders……It can used for the treatment of Anemia as jaggery is a rich source of iron and chickpeas are rich in protein," claims one of the Facebook post. Such posts can be seen here. A screenshot is given below.
Fact Check
Is Jaggery (Gur) and Chana good for anaemic patients?
Yes. Jaggery is a good source of iron. This can help improve the haemoglobin levels in the body and fight anaemia.
Can Jaggery and Chana cure Anaemia?
Sometimes, yes. But not always. A very important thing to note is how severe the anaemia is or more importantly, the reason for anaemia.
Experts say that patients with mild anaemia caused due to malnutrition or iron deficiency in body, can benefit from jaggery-chana diet. However, if anaemia is due to any other reason other than malnutrition or if anaemia is severe, depending on a jaggery-chana diet is not recommended.
The World Health Organization (WHO) website mentions, "The most common causes of anaemia include nutritional deficiencies, particularly iron deficiency, though deficiencies in folate, vitamins B12 and A are also important causes; haemoglobinopathies; and infectious diseases, such as malaria, tuberculosis, HIV and parasitic infections."
Dr. Ambrish Srivastava, MBBS, MD explains, "It is important to know why you have anaemia. While iron deficiency is the primary cause of anaemia, we see a number of cases in rural India where anaemia happens due to intestinal worms. Such cases require investigation and medical intervention. In cases where anaemia is due to malnutrition and is mild, iron rich diet including jaggery and chana may help to certain extent. But then again, if the anaemia is moderate to severe where haemoglobin levels fall below 10, one should immediately seek medical attention. Depending on simply jaggery and chana at that point can prove to be fatal."
Dr. S Krishna Prasanthi, MBBS, MD (PGIMER) says, "Diet obviously plays an important role in improving haemoglobin levels. Jaggery is a great source of iron. So are many other foods like red meat, beans, pumpkin etc. But curing anaemia based on diet is not always recommended. If the person is pregnant or is suffering from severe anaemia, diet alone cannot help. Medication is important."
Disclaimer: Medical Science is an ever evolving field. We strive to keep this page updated. In case you notice any discrepancy in the content, please inform us at [email protected]. You can futher read our Correction Policy here. Never disregard professional medical advice or delay seeking medical treatment because of something you have read on or accessed through this website or it's social media channels. Read our Full Disclaimer Here for further information.