Are root-canaled teeth capable of causing heart diseases?
No, the pulpless, endodontically treated teeth have no role to play in the development of heart problems. Furthermore, modern endodontics enables the retention of teeth that would have been lost due to bacterial infection. This endodontic therapy necessitates good oral hygiene, which helps to prevent the occurrence of heart problems.
Quick Take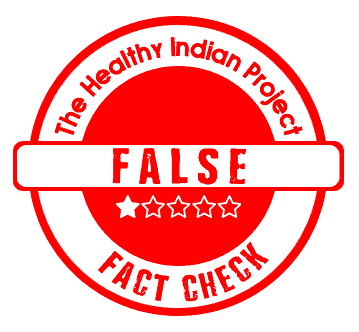 According to a social media post, root-canaled teeth are a source of infection that contributes to the development of heart conditions. We checked the claim and our research determined that the claim is False.
The Claim
A tweet titled "Say No to Root Canal" asserts that a root canal is highly toxic and has been associated with the development of cardiac diseases. The tweet's screenshot has been shared for your reference.
Fact check
What is the significance of root canal procedures?
Root canal treatment involves the removal of infected pulp, followed by cleaning and disinfection. Endodontic treatment aims to prevent tooth abscesses, swelling, excruciating toothache, bone loss, and infection. Once treated, it keeps the natural tooth in place and prevents severe bone damage.
What exactly is the root canal myth?
The root canal myth began in the 1920s. Dr. Weston Price, a dentist, popularized his theory that some chronic diseases are caused by local infections. He believed that decayed or infected teeth that had a root canal procedure harbored harmful toxins, creating a breeding ground for a range of health issues.
Price's research, on the other hand, is extremely unreliable because the conditions for his experiment were poorly controlled. In addition, other researchers have been unable to replicate his findings and confirm his theory. Further to that, Price's theory has been refuted by better-designed and better-researched experiments over the years. Root canal therapy is now a common and widely accepted dental practice that relieves pain and promotes good oral health.
Is it possible that root-canaled teeth cause heart problems?
No, there is no scientific evidence to suggest that pulpless teeth can cause infection. Furthermore, scientific evidence has shown that once the pulpless tooth's root canal has been debrided and disinfected according to modern endodontic principles, the body's immune system can deal with any residual infection. Regardless of the fact that the concept of 'focal infection theory' has had a significant impact on medical and dental practices, the majority of systemic illnesses, according to this theory, are caused by small, localized 'foci' of bacterial infection. This is because infected teeth are natural harbors for bacterial infection and were thought to cause a variety of diseases and conditions. This misconception, however, has been falsified.
It should also be acknowledged that bacterial infections, no matter where they occur or how small they are, have the potential to grow and affect various areas of the body. As a result, root canal treatment is performed solely to eradicate the bacterial infection, thereby preventing the occurrence of heart problems and improving oral health.
When we asked Dr. Pooja Bhardwaj, our dental expert, if root canal treatment can cause heart diseases, she responded, "The American Association of Endodontists asserts that RCT does not cause illness. Correlation has also been shown to be false because untreated dental diseases, such as acute abscess infection, can exacerbate systemic illness. This is because tissue bacteria and debris that putrefy could release toxins that are harmful to human health. Hence, there is no scientific evidence that RCT is a cause of heart disease."
Can maintaining oral hygiene aid in the prevention of heart disease?
No, taking care of your teeth and gums isn't a proven way to keep your heart healthy. While there does appear to be a link between oral health and heart disease, more research is required to fully comprehend it.
Although there is research that supports the possibility of a link between periodontal disease and cardiovascular disease, it should be underlined that these studies show that poor oral health is linked to an increased risk of heart problems, and there is a strong link between heart disease prevention and periodontal treatment. Nevertheless, more research is needed to substantiate this association.
Even though oral health isn't directly related to heart disease prevention, taking care of your teeth and gums with brushing, flossing, and regular dental checkups is essential.
THIP MEDIA TAKE: We conclude that there is no substantial evidence to support the claim that root canal therapy is toxic and causes the development of cardiac conditions. In addition, it has been found that periodontal treatment could help with the management of cardiac diseases. However, more research is needed to confirm this link. As a result, the assertion is false.
Disclaimer: Medical Science is an ever evolving field. We strive to keep this page updated. In case you notice any discrepancy in the content, please inform us at [email protected]. You can futher read our Correction Policy here. Never disregard professional medical advice or delay seeking medical treatment because of something you have read on or accessed through this website or it's social media channels. Read our Full Disclaimer Here for further information.