Do root canal therapies cause cancer?
No. Some cancer patients may be advised to undergo root canal therapy. Root canal treatments, on the other hand, are not known to cause cancer. Therefore, because there is no scientific evidence to back up such claims, these internet-wide misconceptions about root canal procedures are deceptive.


Quick Take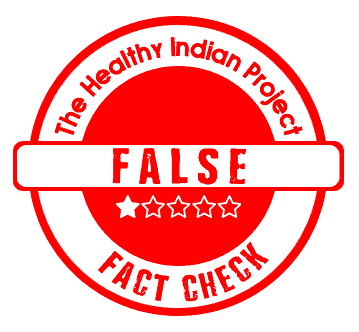 A Twitter post asserts that root canal treatment causes cancer. We happened to verify the claim. According to our findings, the claim is False.
The Claim
According to a viral Twitter post, root canal therapy causes cancer and puts cancer patients at risk of losing their teeth. The post has been shared below for your convenience.
Fact Check
What exactly is a root canal procedure?
Root canal therapy is a dental procedure used to treat an infection in the tooth's center. The pulp is located in the center of the tooth. The pulpal infection develops when bacteria enter this region. These infections can cause a variety of symptoms, such as pain while chewing, sensitivity to hot and cold stimuli, and loose teeth. If not treated, pulpal infections can cause excruciating pain, swollen gums near the affected tooth, pus oozing from the infected area, and even visible swelling on the face.
It should be underlined that the root canal efficiently removes dead and dying pulpal tissue. Once the bacterial infection is removed, the tooth will be sealed. Additionally, to prevent future problems, a crown is placed on the tooth. During this procedure, the original tooth is left in place to help maintain the jaw's integrity.
What is the origin of the belief that root canals cause cancer?
Dr. Weston A. Price proposed the theory that bacteria trapped in dentinal tubules could leak during root canal treatment. This bacterial leakage has the potential to cause nearly any type of degenerative systemic disease, including arthritis. However, this was before medicine discovered the true cause of such diseases. The American Academy of Endodontics, on the other hand, rejected this concept and declared root canal therapy to be a safe procedure.
Moreover, the Journal of the American Dental Association reviewed Dr. Price's research techniques from the 1920s and found that they lacked many aspects of modern scientific research, such as the absence of proper control groups and the induction of excessive doses of bacteria. Thus, decades of research contradict Dr. Price's concept of "focal infection," as there is no credible, scientific evidence linking endodontically treated teeth to systemic disease.
Is it true that root canal therapy can lead to cancer?
No, not at all. There is almost no evidence linking root canal treatment to other diseases. Aside from that, no research on the links between cancer and root canals is available. There are no other studies that show any similarity, causality, or correlation between them. On the other hand, poor oral health, a lack of proper tooth brushing, tobacco use, and alcohol consumption are the primary risk factors for head, neck, and esophageal cancers. Furthermore, untreated periodontal disease and excessive mouthwash use have been identified as distinct causes of head and neck cancer.
Although some people view tooth extraction as a precautionary measure because they believe a dead tooth increases their risk of cancer, pulling out dead teeth is unnecessary. It is always an option, but dentists believe that saving your natural teeth is the best option. As a result, false rumors can cause a great deal of stress for many people. Endodontic treatment and root canal therapy are now safer, more predictable, and more effective thanks to advances in modern dentistry.
When we asked Dr. Pooja Bhardwaj, our dental expert, if root canal treatment could cause cancer, she said, "Weston Price's 1922 "focal infection theory," which claims that RCT can cause terminal cancer, is misinformation and a threat to the public because it lacks sound research." She further explained that it wasn't until 1965 that the correct technique was discovered. Prior to that, no one was aware of RCT protocols such as irrigation, debridement, medication, and so on. Thus, Price's study was unconventional and had a poor experimental design.
How should cancer patients keep their oral health in check?
Most people are aware of common cancer therapy side effects such as nausea and hair loss. However, many people are unaware that the majority of cancer patients experience oral problems. These issues can make it difficult to eat, speak, or swallow. This may interfere with cancer treatment and impact the quality of life.
Cancer patients should see their dentist about one month before starting cancer treatment to ensure that their mouth is healthy. Always consult your dentist about their cancer therapy and follow the dentist's instructions for keeping your mouth clean. Besides that, keep your mouth moist by drinking plenty of water and other healthy liquids. Avoid foods and beverages that could irritate the mouth, such as sharp, crunchy foods or hot, spicy foods, as well as alcoholic beverages and tobacco products.
THIP Media Take: Some cancer patients may have received root canal therapy at some point in their lives. This is not to say that root canal procedures cause cancer. Furthermore, dental advancements have made endodontic treatments safer and more accessible. As a result, if a dentist can save the tooth by performing a root canal procedure instead of extracting it, he or she will almost certainly recommend it. Although there are many misconceptions about root canal procedures on the internet, there is no scientific evidence to support such assertions. Hence, we reach the conclusion that the assertion is false.
Disclaimer: Medical Science is an ever evolving field. We strive to keep this page updated. In case you notice any discrepancy in the content, please inform us at [email protected]. You can futher read our Correction Policy here. Never disregard professional medical advice or delay seeking medical treatment because of something you have read on or accessed through this website or it's social media channels. Read our Full Disclaimer Here for further information.