Quick Take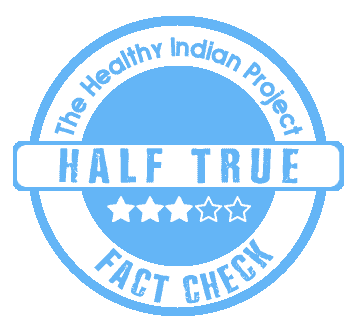 Health blogs and social media posts claim that Ginkgo Biloba, a , can improve eyesight. We fact-checked and found that the claims miss a very important context and is half true.
The Claim
A health blog in a prominent media website claims, "an increasing number of people wearing glasses and contact lenses today. But the fact is no one likes to wear them. So, what do we do? As always, we turn to natural remedies to help us out. And this time around, we are going to focus on the power of herbs to improve eyesight." The blog continues to mention Ginkgo Biloba as an herb and writes, "This is one of the best Ayurvedic remedies to improve eyesight."
Similar posts can be seen here, and here. A screenshot is given below.
Fact Check
What is Ginkgo Biloba?
Ginkgo Biloba is tree that finds its origin in China. The tree has fan shaped leaves that are rich in anti-oxidant. Ginkgo is used as a health supplement by alternative medicine practitioners.
Does Ginkgo Biloba have health benefits?
Ginkgo Biloba has number of health benefits. It contains high amount of flavonoids, a powerful anti-oxidant. Animal studies have shown positive effect of Ginkgo on anxiety and depression.
A few other studies have shown Ginkgo can have positive effect on heart health, and brain health.
Can Ginkgo Biloba improve eyesight?
Maybe, sometimes. Not always.
There is limited research about effect of Ginkgo Biloba on eye health. A few research done to study the effect of Ginkgo Biloba on glaucoma, has shown that Ginkgo Biloba has the ability to increase blood flow into eyes. However, there is no conclusive evidence on whether increasing blood flow can result into prevention of glaucoma or curing it is not clear. Researchers note, "Conclusive evidence is lacking regarding the effect of Ginkgo Biloba Extracts on clinical outcomes in glaucoma patients such as visual field performance."
Similarly, two other small researches done to study the effect of Ginkgo Biloba on age related macular degeneration (AMD). One research was done in France on 20 people and another was done in Germany on 99 people. Both trials reported some positive effects of Ginkgo biloba on vision however their results could not be pooled. A study done on both the research concluded, "The question as to whether people with AMD should take Ginkgo biloba extract to prevent progression of the disease has not been answered by research to date. Future trials should be larger, and last longer, in order to provide a more robust measure of the effect of Gingko biloba extract on AMD."
So, while Ginkgo Biloba has shown some promises in initial research, there is no conclusive evidence on it being able to improve eyesight.
However, the most important context that the health blog articles miss is – eyeglasses, which are often a result of near-sightedness or far-sightedness, cannot be corrected through supplements, diet or excercises.
Eye specialist Dr. Pradeep Dahale, MS, DNB (Opthalmology) says, "Eyeglasses are given by Ophthalmologists or Optometrists to correct vision. These glasses are given to correct vision problems that occur due to anatomical variations of eyeball dimensions. Exercises or Eye Drops or Diet supplements can't alter eye dimensions like axial length, Corneal Curvature, etc. So it is naïve to believe that you will be able to correct your vision naturally and take your glasses off just by exercising."
Eye Surgeon Dr. Aftab Alam, MBBS, DO (Ophthalmology) agrees, "Maintaining eye health is not equal to improving eye vision. Most plant-based diets are good for maintaining eye health. But that doesn't mean they will improve vision. There is no scientific evidence to most of such claims."
Disclaimer: Medical Science is an ever evolving field. We strive to keep this page updated. In case you notice any discrepancy in the content, please inform us at [email protected]. You can futher read our Correction Policy here. Never disregard professional medical advice or delay seeking medical treatment because of something you have read on or accessed through this website or it's social media channels. Read our Full Disclaimer Here for further information.