Does a paste made of salt, lemon, and ginger whiten teeth?
No, there isn't any substantial evidence to support the claim that using toothpaste in addition to a homemade paste made of salt, ginger, and lemon will whiten your teeth. This is because there are no recommended dosages for these ingredients, and their acidic and abrasive natures might have more detrimental effects than beneficial ones.

Quick Take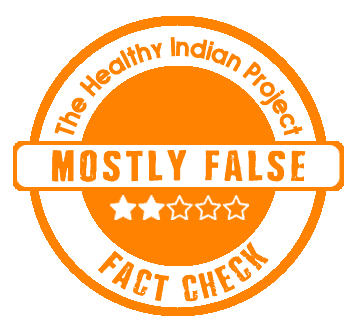 According to a Facebook post that has received a lot of attention, adding salt, ginger, and lemon juice to toothpaste will magically whiten teeth. We fact-checked the assertion. Our research shows that the assertion is Mostly False.
The Claim
A Facebook post with the caption, "How to naturally whiten your yellow teeth" suggests that you can whiten your teeth naturally by brushing them daily with a homemade paste made of salt, ginger, lemon juice, and toothpaste in just three minutes. The post asserts that the remedy is hundred percent effective.
Fact Check
What is the purpose of teeth whitening?
The term 'teeth whitening' refers to a variety of treatments meant to improve a person's natural teeth whiteness and brightness. This is essentially a cosmetic procedure that makes use of bleaching agents and hydrogen peroxide-containing dental products to improve someone's smile. But you cannot deny that these methods work well to get rid of stains that are on the outside of your teeth. These external stains typically appear as a result of environmental exposure to substances that discolour your tooth enamel. This kind of staining can be brought on by smoking, coffee, and artificial food colouring.
It should be noted that stains inside the tooth's enamel are known as internal stains. This kind of staining can occasionally be seen in children before their teeth emerge from their gums.
Is a paste made of salt, lemon, and ginger effective at whitening teeth?
No, not right away. It should be noted that professional teeth whitening procedures can be abrasive, which is why at-home teeth whitening methods have become popular. However, there is no conclusive evidence to support the teeth whitening benefits of brushing with a homemade paste made of salt, ginger, and lemon in addition to toothpaste.
Lemon juice is a powerful at-home bleaching agent and a rich source of vitamin C. On the other hand, excessive use of lemon juice erodes the tooth enamel which guards against dental disease. It is crucial to stress that your teeth's enamel does not grow back. As a result, regularly applying lemon juice will have a negative impact on its ability to whiten teeth.
Studies have shown that ginger has nutraceutical and medicinal properties. The essential oils of the rhizome are responsible for its antioxidant, anti-inflammatory, and antimicrobial properties. As a result, the versatile herb helps to maintain oral hygiene and reduce gum disease-related inflammation. However, it is a safe option. However, there isn't much evidence to support the use of ginger juice as a home remedy for teeth whitening.
Last but not least, salt, or sodium chloride, is a versatile therapeutic agent that is easily used as a toothpaste additive to prevent plaque build-up and maintain oral hygiene, as well as a mouth rinse for mouth ulcers and a pain reliever. However, due to the salt's abrasive nature, its regular application in a homemade paste may be harmful.
Dr. Pooja Bhardwaj (BDS), our dental expert, was asked about the impact of preparation on teeth whitening. She responded that ginger's anti-inflammatory properties help to maintain healthy gums. Additionally, the salt reacts with the citric acid in lemons, which has an acidic pH, to cause the dissociation of the chloride atom and the hydronium ion. This change in reaction causes the pH to become more acidic, which ultimately causes the teeth's enamel to etch. This weakens teeth and makes them more vulnerable to caries.
Please be aware that this homemade paste for teeth whitening that combines toothpaste, ginger, salt, and lemon may actually do more harm than good because there are no established dosages, the ingredients may be abrasive or acidic, and they might ultimately result in tooth sensitivity or enamel damage. In addition, tooth whitening is not guaranteed by this composition.
How could one prevent freshly whitened teeth from getting stained again?
After a whitening procedure is complete, there are some measures you can take to help preserve and maintain a whiter smile. These mostly involve adhering to good oral hygiene routines like regular brushing and flossing and avoiding foods and drinks that could stain the teeth that have been treated. Additionally, some foods can help clean the surfaces of your teeth while also helping to fight off harmful bacteria in the mouth. To naturally keep your teeth clean, eat pears, apples, celery, cucumbers, and cauliflower. It's best to avoid smoking and chewing tobacco as well.
THIP MEDIA TAKE: Since teeth whitening is a cosmetic procedure, it would be risky to rely on a homemade paste made of ginger, a natural anti-inflammatory, abrasive salt, and acidic lemon juice. This is because they are not well-known teeth whitening products and cannot take the place of teeth whitening done by a professional dentist. Additionally, daily application of these medications may result in tooth sensitivity and enamel erosion in the absence of a dosage that has been proven to have therapeutic efficacy. Therefore, we draw the conclusion that the claim is mostly false.
Disclaimer: Medical Science is an ever evolving field. We strive to keep this page updated. In case you notice any discrepancy in the content, please inform us at [email protected]. You can futher read our Correction Policy here. Never disregard professional medical advice or delay seeking medical treatment because of something you have read on or accessed through this website or it's social media channels. Read our Full Disclaimer Here for further information.