Do flaxseeds have the potential to naturally treat constipation?
Can kitchen ingredients cure constipation?
In specific situations, flaxseed's fiber content may help alleviate constipation when incorporated into a regular diet. However, research on its effectiveness for this condition is limited. It is important to note that constipation can be caused by various factors such as lack of exercise, opioid use, medications, irritable bowel syndrome, laxative abuse, and lifestyle changes. Therefore, the role of flaxseeds alone in causing constipation remains unconfirmed.
Quick Take
A social media post claims that flaxseeds cure constipation naturally. We fact-checked and found the claim to be Half True.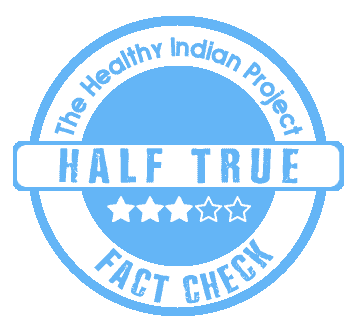 The Claim
An article published on a website talks about the top ten constipation remedies among which one is flaxseed. 
Fact Check
What is flaxseed?
Flaxseed is a fiber crop and a good source of dietary fiber and omega-3 fatty acids, including alpha-linolenic acid. Flaxseeds also contain phytoestrogens called lignans. Regular intake of flaxseeds makes people feel less hungry. It might also help limit how much cholesterol the body absorbs from food.
Can diet cure constipation?
To some extent. Diet plays a significant role in managing and preventing constipation, but it may not necessarily cure it completely. Evidence shows that a healthy and fiber-rich diet can promote regular bowel movements and alleviate constipation symptoms for many individuals. Consuming foods such as fruits, vegetables, and whole grains, and drinking plenty of water can help soften the stool and improve bowel regularity.
However, it's important to note that constipation can have various underlying causes, including medical conditions, medications, or lifestyle factors. In some cases, dietary changes alone may not be sufficient to completely cure chronic or severe constipation. It's recommended to consult a healthcare professional for a proper diagnosis and to discuss appropriate treatment options tailored to your specific situation.
Can flaxseeds cure constipation naturally?
Possible in certain scenarios. Flaxseed contains fiber, which may relieve constipation. It can be added to a regular diet to gain health benefits. However, there's little research on the effectiveness of flaxseed for this condition. Also, the evidence does not confirm whether flaxseeds alone can cause constipation due to lack of exercise, opioids, ongoing medications, irritable bowel syndrome, abuse of laxatives, and changes in life or routine.
To this Dr Sharad Malhotra, Senior Consultant & HOD of Gastroenterology Hepatology & Therapeutic Endoscopy at Aakash Hospital, Dwarka, Delhi, adds, "The movement of food in the intestines is influenced by various factors, including food type, water intake, diseases like diabetes, and certain medications, including indigenous medicine. It is important to address correctable factors and prioritize medical therapy. Lifestyle improvements, such as diet and exercise, are also recommended. Obsession with passing stool at specific times and laxative abuse may be unhealthy. Each individual's situation should be monitored individually as there is no universal solution. Some people may experience cramps after use. Be mindful of your well-being and digestive health".
Dr Malhotra further informs, "Several effective home remedies exist for specific gastrointestinal issues. Nevertheless, it is crucial to acknowledge that there is no universal remedy. Therefore, it is important to evaluate and understand the remedies before using."
What can be the dangers of trying to cure constipation through home remedies and not seeking medical advice?
While home remedies can be helpful for mild cases of constipation, there are potential dangers associated with solely relying on them without seeking medical advice. Some possible risks include:
Delayed diagnosis: Constipation can be a symptom of an underlying medical condition that requires professional evaluation. By only relying on home remedies, you might delay or miss the diagnosis of an underlying health issue that requires medical attention.
Masking serious conditions: Chronic or persistent constipation can sometimes be a sign of a more serious underlying condition, such as bowel obstruction, colorectal cancer, or neurological disorders. Using home remedies without seeking medical advice may mask these conditions, preventing timely diagnosis and appropriate treatment.
Lack of effectiveness: Home remedies may not be effective for all cases of constipation, especially if there are underlying causes that require medical intervention. Delaying proper treatment by solely relying on home remedies can prolong discomfort and lead to further complications.
Unintended side effects: Some home remedies or over-the-counter laxatives may have side effects or interact with other medications you may be taking. Without professional guidance, you may be unaware of potential risks or proper dosages, which can lead to adverse effects on your health.
Worsening symptoms: In some cases, attempting to treat constipation without medical advice can inadvertently worsen the condition. Inappropriate or excessive use of laxatives or enemas, for example, can lead to dependency, electrolyte imbalances, dehydration, or damage to the colon.
Disclaimer: Medical Science is an ever evolving field. We strive to keep this page updated. In case you notice any discrepancy in the content, please inform us at [email protected]. You can futher read our Correction Policy here. Never disregard professional medical advice or delay seeking medical treatment because of something you have read on or accessed through this website or it's social media channels. Read our Full Disclaimer Here for further information.