Can dietary changes help in curing fatty liver and liver fibrosis?
No. There is no scientific research to support the claim. Tamarind and plum drink can be used as a nutritional supplement but it can't be used as a therapeutic medicine or drug.
Quick Take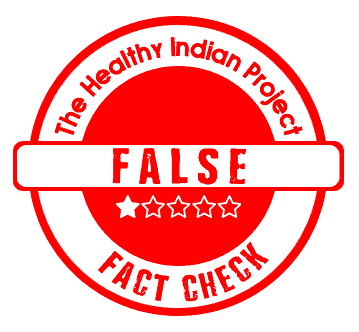 A Facebook post claims that you can cure fatty liver and liver fibrosis by consuming a drink made with tamarind and plum. We fact-checked and found that the claim was False.
The Claim
A post on Facebook claims that you can treat fatty liver and liver fibrosis by drinking tamarind and plum drink.
Fact Check
What is fatty liver and NAFLD?
Fatty liver is a condition in which there is a buildup of fat in the liver. It is of two types, namely, NAFLD, or Non-Alcoholic Fatty Liver Disease and Alcoholic fatty liver disease.
NAFLD, or Non-Alcoholic Fatty Liver Disease, is the build-up of extra fat in the liver cell that is not caused by alcohol. Until now, there is no treatment available as of now to cure NAFLD; the only treatment modalities to reverse the fat buildups are diet and lifestyle changes.
According to the American Liver Foundation, it is the build-up of extra fat in the liver which is not caused by alcohol. It is normal to contain some fat. However, if more than 5-10% of the liver's weight is fat, it is called fatty liver (steatosis). The more severe form of NAFLD is called Non-Alcoholic Steatohepatitis (NASH). NASH causes the liver to swell and become damaged.
Can NAFLD be cured?
Not exactly. Until now, no drugs have been approved specifically to treat NAFLD. You don't need special treatment if a person is suffering from NAFLD without any other medical problems. When living with NAFLD, lifestyle changes can control or reverse the fat buildup in the liver. A patient with NAFLD should lose weight, lower their cholesterol and triglycerides, control their diabetes, avoid alcohol, etc.
What is liver fibrosis and how is it treated?
Liver fibrosis is the excessive accumulation of extracellular matrix proteins including collagen. It occurs in most types of chronic liver diseases. It causes a buildup of scar tissue in the liver, which causes improper functioning of the liver. 
The treatment is usually dependent on the severity and the underlying cause. There is no standard treatment modality for liver fibrosis. It is usually treated by clearing infections, making lifestyle changes and anti-inflammatory medications.
Can drinking tamarind and plum drink help in fatty liver and liver fibrosis?
Not exactly. There are multiple benefits of tamarind and plum documented for liver care. However, none of them has proven to cure fatty liver or fibrosis.
A 2014 study done by a group of researchers shows that tamarind may have some positive effects on Non-Alcoholic Fatty Liver Disease (NAFLD). The study was done on rats. While the study was good to "provide insights into the clinical therapeutic potential" of tamarind, researchers noted that further studies are required on the same.
Similarly, in another research a diet of prunes (plum), dried grapes, carrots, cape gooseberry, pomegranate peel, chicory, sumac, sweet corn, germinated soybeans and vitamins B12, C and D showed to be beneficial for fatty liver. But, once again, it was rat-based study and can hardly be called conclusive evidence in favour of plump alone.
Dr. Kashyap Dakshini, General Physician in Mumbai, clarifies this by stating, " Liver fibrosis is scarring of the liver tissue. It may be due to an infection or due to inflammation of the liver, NAFLD or alcoholic liver disease. There are various forms of management, essentially treating the cause. There is no known evidence or study proving the effectiveness of tamarind and plum drink's effectiveness in treating Liver Fibrosis.
Also, Nonalcoholic fatty liver disease (NAFLD) is a condition in which excess fat builds up in your liver, which is not caused by heavy alcohol use. The incidence of NAFLD is growing in our country because of a more sedentary lifestyle and food habits. Complications of NAFLD include Cirrhosis of the Liver and Liver Cancer, cardiovascular disease, type 2 diabetes, high blood pressure, and dyslipidemia (abnormality in cholesterol levels).
There is no cure for NAFLD; however, lifestyle and dietary changes, exercise, weight loss, and reducing carbohydrate intake help control it. There is no known evidence or study proving the effectiveness of tamarind and plum drink in the treatment of NAFLD."
What role does diet play in curing fatty liver and liver fibrosis?
Diet has a crucial role to play in treatment of liver diseases including NAFLD and Fibrosis. Like tamarind and plump, spinach, beans, soy, garlic and even coffee have shown to have beneficial effects on multiple liver conditions. However, multiple experts we talked to have confirmed that a single ingredient diet cannot cure any liver disease. A good diet combined with medicines wherever required along with changes in lifestyle (daily exercises to reduce weight, leaving alcohol consumption etc) is the best way to treat liver problems like NAFLD and Fibrosis.
Clinical Nutritionist Nidhi Sarin further elaborates by stating, "There is no evidence that plum and tamarind can cure liver fibrosis. But they help detox the liver. However, along with that, one has to live a healthy lifestyle and maintain the right body weight with the right exercise.
Also, NAFLD can be cured if patients take the proper guidance from doctors and dieticians for lifestyle changes which include 10 per cent of their body weight, the right diet and exercise. Tamarind and plum are very beneficial for the liver as they flush the toxins. But, consuming only these two can't cure the disease."
Disclaimer: Medical Science is an ever evolving field. We strive to keep this page updated. In case you notice any discrepancy in the content, please inform us at [email protected]. You can futher read our Correction Policy here. Never disregard professional medical advice or delay seeking medical treatment because of something you have read on or accessed through this website or it's social media channels. Read our Full Disclaimer Here for further information.