Quick Take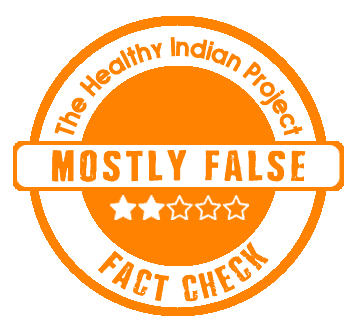 A social media post claims eating yoghurt, honey and lemon everyday cure gallstones in the gallbladder. We fact-checked and found the claim to be Mostly False.
The Claim
A Facebook post claims '…gallstones in the gallbladder caused by eating fried food that uses trans fats come to cook and behavior of drinking less water ..in natural therapy Eat yogurt + honey + lemon. Eat every day, eat regularly, and drink lots of water. Do not let less than 3 liters per day, refrain from fried food, refrain from eating trans fats. Gallstones will come off on their own. …(if it's not too big)'.
Fact Check
What are gallstones?
Gallstones are hardened digestive fluids deposits that look like stones formed in the gallbladder.
The gallbladder holds a digestive fluid called bile between the meals when there is no fat to be digested. However, when we eat food gallbladder contracts to squeeze out the bile through the bile duct into the small intestine. Besides bile, the gallbladder also stores cholesterol and bilirubin (which makes urine yellow and stool brown). Due to some chemical imbalance, these stored compounds in the gallbladder produce stones.
Can gallstones be cured completely?
Yes. Gallstones stuck in the gallbladder can only be treated through surgical procedures including endoscopy, laparoscopy, cholecystectomy or open surgery.
But gallstones range from the size of a sand grain to a golf ball. So, small gallstones may leave the gallbladder and pass into the bile duct to reach the small intestine and stool.
Can eating yoghurt, honey and lemon cure gallstones?
The available evidence only suggests that eating a healthy diet reduces the risk of developing gallstones. However, we could not find evidence that confirms natural remedies like yoghurt, honey and lemon can cure gallstones completely.
We asked Dr Sharad Malhotra, Gastroenterologist, to suggest if doctors recommend natural remedies as stated in the claim along with the treatment. To this, he said "Gallstones occur because of supersaturation of cholesterol or infection in bile. Since no food elements will change the bile composition, no food can be offered as a cure for gallstones".
We further studied to understand if yoghurt, lemon and honey have any role against gallstones. As a result, we found a (2020) study that showed Bifidobacteria and Lactobacilli bacteria catalyse the bile salts to prevent them from forming a stone. Yoghurt being a probiotic drink is full of bacteria, so incorporating yoghurt into the routine diet may prevent the formation of gallstones. Another (2009) study showed vitamin C can reduce the risk of gallstones. As lemons are rich in vitamin C, introducing lemons to a routine diet can be a healthy choice.
Likewise, we also found a (2020) research that showed honey can degrade the Salmonella typhi biofilm on the gallbladder to expose the gallbladder for treatment or to be passed through the stool on its own.
However, we could not find any evidence of optimum dosage of lemon yoghurt and honey that can prevent the risk of gallbladder.
Can eating yoghurt, honey and lemon harm the human body?
It seems so. During our research, we found scientific evidence that showed eating too much lemon/toxicity, honey and yoghurt is harmful to the human body. A (2015) study showed lemon can damage teeth by eroding tooth enamel. Another (2014) study showed eating too much honey can cause food poisoning to cause 'dizziness, nausea, vomiting, convulsions, headache, palpitations or even death'.
In context with yoghurt, Dr Kashyap Dakshini, General Physician, says "Excess of everything is bad and yoghurt is no exception. Excess yoghurt may lead to weight gain and increased risk of diabetes or metabolic syndrome, especially if the yoghurt is flavoured or sweetened". The Healthy Indian Project (THIP Media) has previously discussed potential harms associated with eating too much yoghurt.
THIP MEDIA TAKE: The available evidence only suggests that lemon, honey and yoghurt does not have any impact on already formed gallstones. However, scant evidence suggests that lemon, honey and yoghurt may reduce the risk of gallstones if consumed in moderation.
Disclaimer: Medical Science is an ever evolving field. We strive to keep this page updated. In case you notice any discrepancy in the content, please inform us at [email protected]. You can futher read our Correction Policy here. Never disregard professional medical advice or delay seeking medical treatment because of something you have read on or accessed through this website or it's social media channels. Read our Full Disclaimer Here for further information.