Quick Take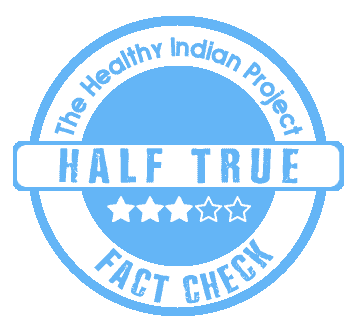 A social media post claims that herbs like penny royal tea, cotton root bark, black cohosh, blue cohosh, angelic root, Queen Anne's lace, mugwort, rue, parsley must not be consumed during pregnancy as they cause miscarriage. We fact-checked and found the claim to be Half True.
The Claim
An Instagram post claims 'Let's talk about herbs that must be avoided during pregnancy❤️
• Good ol pennyroyal tea will destroy your liver, please don't drink it. However it's also important to know that a strongly infused oil should not be rubbed on the pelvic area as it may, with repeated use, cause loss of pregnancy.
• Cotton root bark, this one should never be drunk as a tea, it has a long history of being problematic during early pregnancy. It also has a capacity to thin blood so women who accidentally ingest this will need to counter this with something like shepherds purse or vit K.
• Black cohosh, blue cohosh, & angelic root should absolutely never be taken during pregnancy especially alongside one another. These three have the capacity to disrupt hormone development & will typically cause bleeding to begin in just a handful of days in very early pregnancy.
• Queen Anne's lace should be avoided by anyone who's attempting to conceive, she has a tendency to make the uterine wall slippery & prevents the precious egg from implanting. It's also important to know that during pregnancy if the egg can't implant the pregnancy won't continue.
• Mugwort should also be avoided as small amounts consumed in early stage pregnancy may cause uterine contractions, it's also worth noting that infused body oils may have the same effect albeit a bit safer for the liver.
• Rue, while not a commonly used herb, is showing up more in tea blends. This one can also be really problematic during pregnancy so much so that women for thousands of years have known to avoid it during pregnancy.
• Parsley, while safe in food level amounts, should be avoided in large quantities such as broths as it may cause spontaneous loss of pregnancy. Especially if the person happens to be taking larger doses of vitamin C which can also endanger an early pregnancy
• These are just a handful of herbs that may disrupt hormones, cause uterine contractions, & that should be avoided by anyone wanting to keep a pregnancy viable.
• Keep learning about these & other herbs you may have access to that cause these situations.
•I mean how else will we avoid accidental miscarriages?
•You're smart enough to do this too😉'.
Fact Check
Can eating herbs during pregnancy cause miscarriage?
Might be. Eating herbs like pennyroyal tea, cotton root bark, black cohosh, blue cohosh, angelic root, Queen Anne's lace, mugwort, rue, and parsley may affect pregnancy. A (2015) study states that herbs 'should be used with extreme caution during pregnancy as they can result in deleterious outcomes for the mother and fetus'.
However, this study also states that when herbal medications are 'prescribed appropriately' they are 'safe, with rare incidences of life-threatening events'. It seems there is scant credible information available online that suggests the safe quantity and efficacy of these herbs during pregnancy.
A (2017) study states 'Herbal medicines were used during pregnancy to treat nausea and vomiting, reduce the risk of preeclampsia, shorten labour and treat common cold and urinary tract infection. Using herbal medicine occasionally causes trouble'. However, herbal medicines may also cause 'heartburn, pre-mature labour, miscarriage, increase in blood flow, abortion and allergic reactions' during pregnancy if consumed with incomplete knowledge on herbs.
We asked Dr Sanjay Kumar, an Ayurveda specialist, to suggest whether herbs can be used to self-manage abortion. To this, he said "Herbal abortion methods can be unreliable, long, labor intensive, and potentially ineffective and dangerous. Still, herbs, supplements and vitamins are most commonly used to self-manage abortions. Factors such as fearing for one's safety/well-being, keeping abortion a secret, or living far from an abortion facility are associated with higher odds of attempts".
Dr Kumar also highlighted "According to those with experience in herbal abortions, there are a lot of misconceptions on the Internet, especially when it comes to how and when herbs should be used".
Nidhi Sarin, clinical nutritionist and certified diabetic educator, says "Herbs should not be used during pregnancy without consulting a healthcare provider. In fact, any kind of food which is doubtful should be avoided for a healthy and a safe pregnancy. Never try self diagnose medications like herbs because every woman is different and each pregnancy is different. Best way to use herbs should be under the guidance of a herbalist, doctor, naturopathic or homeopathic doctor".
The available evidence suggests that the consumption of herbal medicine is common among women throughout pregnancy. A (2015) research shows that 'herbal products are preferred over prescription medications due to the belief that herbs are safer for the fetus than modern medicine'.
This study also states that even though 'evidence on the safety profile of herbal products is inadequate to substantiate their use in pregnancy, it is increasingly used by expectant mothers. The prevalence of herbal medicine utilization in pregnancy ranges between 7% and 55% in different geographical, social and cultural settings, and ethnic groups'.
The use of herbal medicines in pregnancy constitutes a major challenge for healthcare providers as most of them are not aware of their usage. Even women who prefer herbal medicines during pregnancy might not know their actual ingredients or if it is contaminated or adulterated with harmful ingredients. This unawareness among women and healthcare providers can prevent the much-needed line of treatment. Also, complications due to drug-herbal medicine interactions can worsen the overall situation.
From our research, we have realised that there exist important research gaps and a lack of regulatory framework which does not provide enough scientific evidence on the impact of herbs during pregnancy and the knowledge of this among women.
THIP MEDIA TAKE: Pregnant women must not consume herbs like pennyroyal tea, cotton root bark, black cohosh, blue cohosh, angelic root, Queen Anne's lace, mugwort, rue or parsley without consulting an experienced healthcare provider because each pregnancy is different and consumption of herbs with incomplete knowledge may have unknown effects during pregnancy or may cause serious complications in the fetus.
Disclaimer: Medical Science is an ever evolving field. We strive to keep this page updated. In case you notice any discrepancy in the content, please inform us at [email protected]. You can futher read our Correction Policy here. Never disregard professional medical advice or delay seeking medical treatment because of something you have read on or accessed through this website or it's social media channels. Read our Full Disclaimer Here for further information.