Can cashew bark be used as anti-snake venoms?
No. Conventional herbs like cashew bark are not reliable antidotes for snake bite toxins. The only standardized, specialized medicines now available for treating snakebites are antivenoms.
Quick Take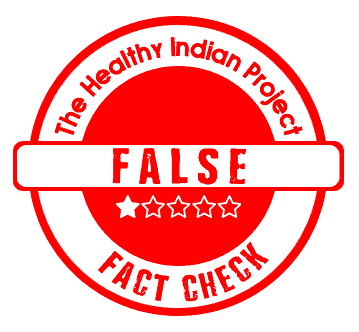 According to a Facebook post that has received thousands of shares, chewing cashew tree bark can "destroy snake venom," including the highly poisonous bite of an anaconda. We analyzed the claim. Our research determined that the assertion is False.
The Claim
A Facebook post with the caption "ANTI-POISON" states that chewing
the bark of a cashew nut tree can effectively counteract snake venom.
Furthermore, the post claims that the bark is potent and useful even against an anaconda bite. The screenshot of the post has been shared below.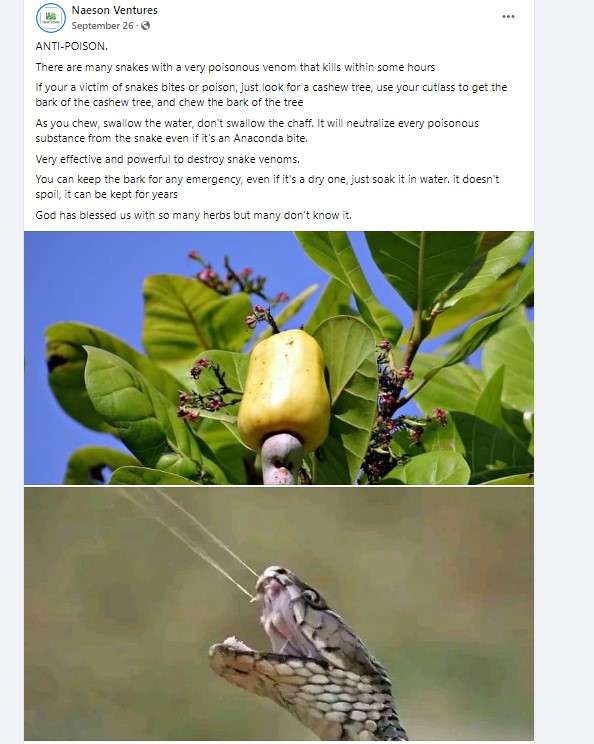 Fact check
What is snake venom?
Snake bite toxins could lead to fatal conditions notably in rural areas of the tropical developing nations. Snake venoms are tissue-specific, protein-rich toxins. And can be divided into three major classes, making them both clinically challenging and scientifically significant, especially for the development of antivenoms. Toxins from snake bites can come in three primary varieties. These rely on the kind or subtype of snakes. A venom can be either hemotoxic, cytotoxic, or neurotoxic. The cardiovascular system is impacted by hemotoxic venoms. In contrast, cytotoxic venoms target certain cellular locations, and neuro-toxic venoms injure the human body's nervous system.
What is the purpose of anti-snake venom (ASV)?
Anti–snake Venom is a specialized countermeasure to the effects of snake venom. Remarkably, it is still applied empirically to handle poisonous cases. The most prominent and highly prized ASV is prepared by capturing or parking snakes, milking snakes in a lab, and immunizing horses with venom.
Please be aware that snake venom is a complex mixture of many components. These mainly include non-toxic proteins, carbohydrates, metals, and enzymatic and non-enzymatic components . However, circulating venom is the only one that the antivenom neutralizes. It should be made clear that no amount of ASV will be able to neutralize or combine with venom once it has adhered to or been absorbed by the target organs. Thus, the prevention of organ damage depends on early venom detection and antidote administration.
Is it possible to counteract snake venoms by consuming cashew nut tree bark?
No, there isn't any substantial evidence. Even though the study mentions that cashew fruit can only reliably counteract viper venom. As a result of the remedy's specificity, polyvalent toxins may not benefit from it. Thus, it is ineffective for treating all snake venoms, including that of the anaconda. Additionally, we found no references to cashew tree bark being used as a snake venom antidote in our research.
We asked Dr. Kashyap Dakshini General Physician in Mumbai, whether chewing the cashew tree's bark makes snake poison ineffective. He responded that, "Ethnobotanical procedures have been extensively used to identify a practical treatment for snake bites, which is a major cause of fatalities in the tropics. Pharmacological testing has been done on some plants to determine how well they neutralize snake venom. However, there is no data available to support the assertion that chewing the bark of the cashew nut tree renders snake poison ineffective, nor is there any evidence of any clinical trials published in reliable and reputable publications. It would be best to get advice from a doctor who would think about utilizing anti-snake venoms that are available after administering a test dosage while keeping in mind the risks involved."
Can herbal remedies be used as efficient antidotes for snake venom?
No, not for now. According to the World Health Organization, antivenom is the only standardized, targeted treatment for addressing the medically relevant consequences of snake venom toxins. Even so, several herbal treatments, including Touch Me not, Indian sarsaparilla, Turmeric, Amla, and Cashew Fruit, have been described as having antivenomous properties. Their use as efficient antivenomous antidotes is, however, restricted by the lack of supporting data.
Disclaimer: Medical Science is an ever evolving field. We strive to keep this page updated. In case you notice any discrepancy in the content, please inform us at [email protected]. You can futher read our Correction Policy here. Never disregard professional medical advice or delay seeking medical treatment because of something you have read on or accessed through this website or it's social media channels. Read our Full Disclaimer Here for further information.