Quick Take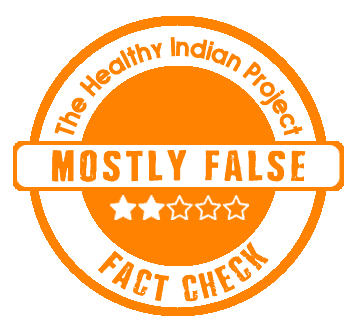 A number of social media posts, directly and indirectly, claim that using deodorants and antiperspirants causes Breast Cancer in females. We fact-check and find the claims to be mostly false.
The Claim
Multiple social media users claim that 'using deodorants cause breast Cancer in females.' Screenshots of some of such posts are given below.
In addition, we also received a WhatsApp message in circulation in our WhatsApp tipline that says, 'the major cause of Breast Cancer in girls is the use of antiperspirants. It blocks of sweat.' A screenshot of the message is given below.
Fact Check
Do deodorants cause Breast Cancer?
No. Major researches have not revealed any direct connection between Breast Cancer and deodorants.
One of the major reason of concern around deodorants rises from the belief that the chemicals are absorbed in the skin and gets settled in the lymph nodes under the arm. As per the American Cancer Society, this is a false presumption. Their website Cancer.org mentions, 'There are no strong epidemiologic studies in the medical literature that link breast cancer risk and antiperspirant use, and very little scientific evidence to support this claim. In fact, a carefully designed epidemiologic study of this issue published in 2002 compared 813 women with breast cancer and 793 women without the disease. The researchers found no link between breast cancer risk and antiperspirant use, deodorant use, or underarm shaving.'
Are deodorants completely safe?
No. Few ingredients in some deodorants raise concerns of many researchers.
a) Aluminium: Aluminium is an active ingredient in many deodorants, antiperspirants and other under arm products. The aluminium act as a plug on the sweat gland and stops the sweat from flowing.
Some research suggests that aluminum-containing underarm antiperspirants, which are applied frequently and left on the skin near the breast, may be absorbed by the skin and have estrogen-like (hormonal) effects. Because estrogen can promote the growth of breast cancer cells, researchers suggested that the aluminum-based compounds in antiperspirants may contribute to the development of Breast Cancer.
In contrast, some other researchers have concluded that there is no clear evidence that aluminum can lead to Breast Cancer.
Hence, medical research on the effects of aluminum towards causing Cancer isn't clear.
b) Paraben: The second ingredient that is a matter of concern is Paraben. Parabens are majorly used as preservatives. Studies suggest that they can act like estrogen hormones. Since estrogen promotes the growth of Breast Cancer cells, hence Paraben has been a matter of concern too. However, researches have still not proved that Paraben can cause Breast Cancer.
NOTE: Not all under arm products, deodorants and antiperspirants, contain aluminium or paraben.
Can blocking of sweat be one of the reason for causing Cancer?
No. The common misconception is that sweat helps release toxins from the body. But this is not true. Any toxin from the body is released after it is processed by liver and kidney.
Cancer.org mentions, 'Lymph nodes help clear out bacteria, viruses, and other possible threats to the body, but the lymph nodes do not release waste or toxins through sweating. In fact, lymph nodes are not connected to sweat glands. Sweat glands are located in the skin, not in the lymph nodes. Most cancer-causing substances that enter the body are removed from the blood by the kidneys and by the liver. Substances removed by the kidneys are released into urine, while those taken by the liver are released into bile. The bile then mixes with and is eliminated with feces.'
Can men also have Breast Cancer?
Yes. Men can also have Breast Cancers. But it is also not linked to deodorants or antiperspirant products.
Do obese men get Breast Cancer?
Dr. Manish Singhal, Senior Oncologist, says, "Breast Cancer is comparatively less common in men but it can happen. The risk is not limited to fat men alone."
Disclaimer: Medical Science is an ever evolving field. We strive to keep this page updated. In case you notice any discrepancy in the content, please inform us at [email protected]. You can futher read our Correction Policy here. Never disregard professional medical advice or delay seeking medical treatment because of something you have read on or accessed through this website or it's social media channels. Read our Full Disclaimer Here for further information.