Quick Take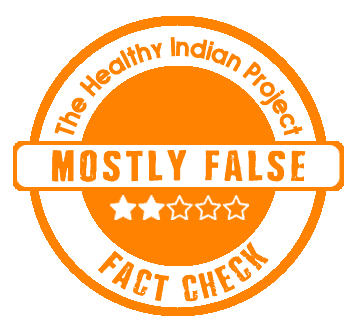 A social media post says that colloidal silver can be used to treat various diseases. We fact-checked and found this claim to be Mostly False.
The Claim
A post on Facebook claims that colloidal silver can be used to treat various diseases such as Sinusitis, Cold/Flu, Prevents Pneumonia, Wound Care/Skin Health, Pink Eye/Ear Infections, and can be used as an Antiviral, Anti-Inflammatory, Antibacterial and Antimicrobial agent. It further describes the exact dosage which is needed for a specific disease. The screenshot of the post is attached below.
Fact Check
What is colloidal silver?
Colloidal silver is a term used to describe tiny particles of silver suspended in a liquid. It was earlier used as an over-the-counter drug for various ailments, such as several infections, hay fever, skin conditions, etc., but in September 1999 the FDA ruled that it is not safe to use. It was believed to be extremely useful for wound dressings as well.
What are the side effects of using colloidal silver?
According to the National Center for Complementary and Integrative Health, "The most common is argyria, a bluish-gray discoloration of the skin, which is usually permanent." In argyria, the silver deposits may also occur in your intestines, liver, kidneys, and other organs. It further states that it can also cause "poor absorption of some drugs, such as certain antibiotics and thyroxine (used to treat thyroid deficiency)."
Furthermore, in rare cases, its high dose can cause serious side effects, such as neurological impairment, seizures and organ damage. Lastly, if taken in large amounts, it can even cause fatal poisoning.
Can colloidal silver be used to treat various ailments?
No. There is no scientific research that supports the use of oral colloidal silver in the prevention, treatment, or cure of any of the health conditions or diseases mentioned above. However, as per the NCCIH, "Topical silver (used on the skin) has some appropriate medical uses, such as in bandages and dressings to treat burns, skin wounds, or skin infections." It must be noted that silver has no known function or benefits in the body when taken by mouth.
The FDA has already established its use as unsafe, stating, "There is a lack of adequate data to establish general recognition of the safety and effectiveness of colloidal silver ingredients or silver salts for OTC use in the treatment or prevention of any disease." Instead, its use poses significant health risks as it builds up in your body. Therefore, due to its lack of effectiveness and potential side effects, it's best to avoid colloidal silver.
Disclaimer: Medical Science is an ever evolving field. We strive to keep this page updated. In case you notice any discrepancy in the content, please inform us at [email protected]. You can futher read our Correction Policy here. Never disregard professional medical advice or delay seeking medical treatment because of something you have read on or accessed through this website or it's social media channels. Read our Full Disclaimer Here for further information.