Quick Take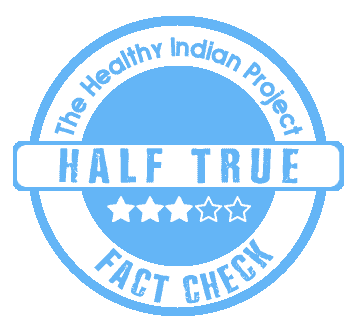 A YouTube Video claims that the mixture of coconut oil and vitamin E on stretch can give desired results. We fact-checked and found the claim to be Half True.
The Claim
A social media user posted a YouTube video titled, "Get Rid of stretch marks at home." The video has gathered 10,570 views till we last checked.
The video is embedded down-below:
Fact Check
What are stretch marks?
Stretch marks are indented streaks that occur from skin stretching quickly and beyond its elastic capacity.
A study has shown that genetics and the degree of stress on skin play an essential role in producing stretch marks. Another study has shown that the cortisol hormone produced by the adrenal gland reduces skin elasticity.
A research paper has shown that a protein named collagen is responsible for making skin more elastic. So, if the skin does not have enough collagen, stretch marks may show up.
Can stretch marks be removed permanently?
Not exactly. The ability to completely remove stretch marks depends upon the skin. A permanent treatment will involve rebuilding new healthy tissues beneath the stretch marks to fade away the appearance of the marks.
The available chemical treatments may fade away stretch marks depending upon the case, but home remedies only reduce the appearance.
Dermatologist, Dr Jyothy Kannangath, explains, "Stretch marks can not be removed, they can only be reduced. Textural changes and colour alteration can be improved with procedures like fractional lasers, radiofrequency, PRP, etc. The topical products used for the treatment of stretch marks may fade them if used regularly for a minimum of 3-6 months."
Can coconut oil reduce stretch marks?
To a certain extent. Stretch marks make the skin dry and itchy. As coconut oil is an emollient, its regular application on stretch marks nourishes and hydrates the skin. A hydrated and supple skin may promote healing and prevent stretch marks from occurring in future. A research paper has shown that coconut oil can heal and promote collagen turnover wounds. The paper has also shown that coconut oil can reduce inflammation and brighten skin appearance.
Can vitamin E reduce stretch marks?
To a certain extent. Vitamin E is an antioxidant commonly used in dermatology anti-ageing and regenerating treatments. The available literature has shown that vitamin E has anti-inflammatory, rehydration and alters collagen production. So, vitamin E can reduce the appearance of stretch marks.
However, there is no evidence that confirms vitamin E removes stretch marks. The same has been confirmed by the American Academy of Dermatology Association (AADA) website.
Dr Kannangath further added, "Both coconut oil and vitamin E cannot remove stretch marks. However, both possess moisturising and anti-inflammatory action. So, they can be used along with other treatments to reduce the appearance of stretch marks. They are not very useful as a stand-alone therapy. These products can be used for preventing the development of stretch marks."
Disclaimer: Medical Science is an ever evolving field. We strive to keep this page updated. In case you notice any discrepancy in the content, please inform us at [email protected]. You can futher read our Correction Policy here. Never disregard professional medical advice or delay seeking medical treatment because of something you have read on or accessed through this website or it's social media channels. Read our Full Disclaimer Here for further information.