Quick Take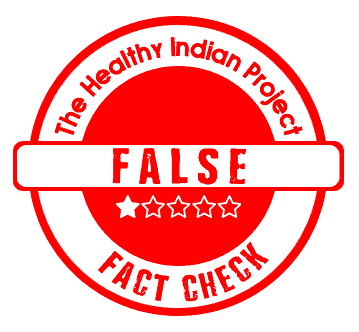 A blogging website suggests coconut oil and baking soda can reduce wrinkles and sagging facial skin. We fact-checked and found the claim to be false.
The Claim
A blogging website named lovethispic.com published a blog titled, "Say Goodbye to Wrinkles and Sagging Facial Skin After Washing It With Coconut Oil and Baking Soda!".
The blog claims, "Baking soda is amazing in the treatment of acne, as it is an amphoteric compound and thus balances the pH balance of the skin and prevents their occurrence since pH imbalance is the leading cause of acne". It further claims, "Coconut oil has powerful medicinal, moisturizing and antibacterial properties which effectively nourish, condition the skin and reduce the skin's blemishes".
Fact Check
Can baking soda treat acne?
No. Baking soda cannot treat acne. The use of baking soda for acne is purely a myth and is not based on any scientific evidence. Also, dermatologists do not recommend baking soda on the skin because it can strip off the natural oil to irritate the skin.
A study published in Wiley has shown that the human skin is slightly acidic in nature with a pH of 4-5.5. This (2006) study shows that skin should be slightly acidic as it keeps skin moisturised and protected from bacteria as well as pollutants.
On the other hand, baking soda is alkaline with a pH of 8-9. The excessive use of baking soda disrupts the pH balance and makes the skin vulnerable to bacteria and pollutants. As a result, baking soda can dry out the skin to make it itchy and irritated.
A (2019) study has shown that baking soda does not hydrate or reduce water loss from the skin. Moreover, the study also does not find any effect of baking soda on skin infections, including rashes on the skin.
Dr. Iram Qazi, MD (Dermatology) says, "I will never suggest baking soda as a home remedy treatment. It can have damaging effects on the skin. That is because baking soda can interfere with the skin pH. The normal pH of the skin ranges from 4.5-5.5. This pH keeps the skin healthy and forms a protective oil barrier around it keeping it well moisturized with healthy oils and protecting it from bacteria as well. Baking soda, on the other hand, has a pH of 9. Thus applying a strong alkaline base on the skin can remove the natural protective oils from the skin and make it more prone to bacterial infections and skin damage. Also, baking soda can cause skin irritation and inflammation which may worsen acne and increase pigmentation and scarring of the skin. It can also increase skin dryness which causes overproduction of skin oils leading to more acne breakouts and scarring of the skin."
Can coconut oil reduce blemishes and wrinkles?
No. The use of coconut oil for reducing blemishes and wrinkles is again a myth quite prevalent among people from ages. Although coconut oil has anti-inflammatory and antimicrobial properties that may initially give an appearance of healthy skin to certain skin types. However, dermatologists do not recommend putting oil on the face regularly.
Blemishes and wrinkles are signs of skin ageing. Both signs occur due to irreversible structural and biological changes in the layers of the skin. However, the appearance of blemishes, wrinkles and other visible signs of ageing can only be reduced with medical treatments under the guidance of experienced doctors.
A study suggests that facial coconut oil massage can be soothing, but can harm damaged skin. The reason is coconut oil being comedogenic seeps deep into the pores to clog them and cause pimples or give an oily appearance.
Another study discusses the benefits of coconut oil and recommends its use only in skincare formulations.
Disclaimer: Medical Science is an ever evolving field. We strive to keep this page updated. In case you notice any discrepancy in the content, please inform us at [email protected]. You can futher read our Correction Policy here. Never disregard professional medical advice or delay seeking medical treatment because of something you have read on or accessed through this website or it's social media channels. Read our Full Disclaimer Here for further information.