Can coconut husk infused water cure Typhoid?
Not exactly. There is a lack of scientific evidence in proving that coconut husk infused water can cure Typhoid. Correct and timely treatment is necessary to cure Typhoid. Standard treatment is needed else the condition can also turn fatal. Also, even though there are few evidences that coconut husk might carry antimicrobial activity, whether it can treat Typhoid is not proven yet.
Quick Take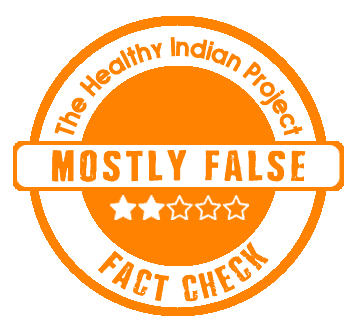 A social media post claims that typhoid can be cured by using coconut-choir infused water. We fact-checked and found this claim to be Mostly False. Although there have been studies that show the antimicrobial activity of coconut husk. Further evidence is needed to prove that it can be used as a therapeutic remedy for typhoid.
The Claim
A Facebook post reads, "AN ULTIMATE SOLUTION TO TYPHOID AND A BLOOD BOOSTER
Sometimes because you don't pay for these remedies or because I'm not a medical doctor, you don't value the information, some great information doesn't cost you a penny, and it saves lives.
This is Coconut peel, for typhoid or to boost your blood dry it very well with sun and cook it with a pinch of potash,drink a cup morning and night
Check yourself within two weeks and see how typhoid will fly away."
Fact Check
What is Typhoid?
Typhoid fever is an infection that is caused by a bacteria called Salmonella Typhi. It can spread throughout the body, causing various symptoms such as high fever, diarrhea, vomiting, etc. Typhoid fever spreads through contaminated food, water or close contact with an infected person. Therefore, it is necessary to consult a doctor and get proper treatment from the doctor, as it can cause life-threatening complications. Safe drinking water, improved sanitation, and adequate medical care are the measures that can help prevent and control typhoid fever.
Can coconut choir-infused water cure typhoid?
Not exactly. The available evidence is not enough to confirm that coconut choir-infused water can cure typhoid. While researching coconut choirs, we found an article published by the Journal of Natural Science, Biology and Medical, which showed that the extract of Cocos nucifera showed a significant concentration-dependent antimicrobial activity. However, this study was done to asses the inhibitory action against oral pathogens. Further studies are needed to find if same results exist for typhoid causing agents to prove this claim.
Similarly, another study evaluated the antimicrobial activity of coconut husk extract and found that antimicrobial activity of husk extract increased with increasing concentration and was found to be more effective against gram-negative than gram-positive organism due to the presence of tannins and other phenolic compounds. However, this study showed results for pneumonia causing agents and not Salmonella Typhi.
Also, even though consuming fluids like Coconut water prevents dehydration during typhoid fever, there are scant studies about treating the disease with coconut choir-infused water. 
We asked Dr. Kashyap Dakshini, General Physician in Mumbai, whether coconut choir-infused water cures typhoid. He responded that "Typhoid fever is a life-threatening infection caused by the bacterium Salmonella Typhi which is spread through contaminated food or water and may have symptoms like prolonged fever, fatigue, headache, nausea, abdominal pain, constipation or diarrhea. Typhoid can be treated with antibiotics. Coconut coir is not edible and cannot be used to cure typhoid."
The NHS states, "Typhoid fever requires prompt treatment with antibiotics. If typhoid fever isn't treated, it's estimated that up to 1 in 5 people with the condition will die. Some of those who survive will have complications caused by the infection."
Dr. S Krishna Prasanthi, MBBS, MD (PGIMER) doesn't recommend using such home remedies to treat Typhoid and states, "Typhoid is a bacterial infection caused by Salmonella Typhi. It causes nearly 100,000+ deaths per annum. There is an increasing resistance to multiple antibiotics. In this scenario, depending on home remedies like coconut coir infused water delays diagnosis and proper treatment, which may turn fatal."
Disclaimer: Medical Science is an ever evolving field. We strive to keep this page updated. In case you notice any discrepancy in the content, please inform us at [email protected]. You can futher read our Correction Policy here. Never disregard professional medical advice or delay seeking medical treatment because of something you have read on or accessed through this website or it's social media channels. Read our Full Disclaimer Here for further information.