Quick Take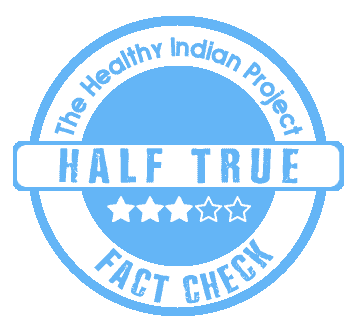 A social media video claims carrots strengthen bones. We fact-checked and found the claim to be Half True.
The Claim
A YouTube video titled '10 Amazing Health Benefits Of Carrots' listed benefits in points. In the fifth point, the video claims 'Help Strengthen the Bones: Carrots have a high amount of Vitamin K, which helps your body to build proteins. As a result, it helps your body to process calcium, which heals your body and any broken bones faster and helps to strengthen your bones'.
Fact Check
Can carrots strengthen bones?
To a certain extent. Carrots contain fiber, potassium, vitamin C, manganese, vitamin A, and vitamin B, silicon, Vitamin K, and boron that can help with maintaining overall bone health.
Also, a (2017) study has shown that a greater intake of fruits and vegetables lowers the chance of osteoporosis. Another article referred to a study that suggested carrots might decrease the effects of arthritis as it contains many anti-inflammatory and antioxidant properties.
As available evidence suggests carrots may strengthen bones, we also searched if overdose of carrot is harmful in any way. As a result, we found a few published studies that studies nutritional compounds in carrots such as beta carotene and vitamin A overdose can be quite harmful to the human body.
A (2012) case report shows a man suffering from abdominal discomfort and skin discoloration due to vitamin A toxicity from carrots.
Can diet maintain overall bone health?
To a certain extent. The Healthy Indian Project (THIP) Media has previously shown that if you eat a well-balanced diet with plenty of dairy, fish, fruits and vegetables, you should get enough of the nutrients you need every day.
To this Dr. Saransh Gupta, Orthopaedic Surgeon, Indian Spinal Injuries Centre, Delhi, further adds, "As we reach 30 years of age, we achieve peak bone mass. A poor peak bone mass makes you prone to develop osteoporosis (weak bones) later. Fortunately, many nutrition and lifestyle habits can help you build strong bones and maintain them as you age. Calcium, vitamin D, magnesium, zinc, vitamin K2, proteins etc., are important for a healthy bone mass. People must avoid drinking alcohol or carbonated soft drinks and eating a high salt diet."
Dt. Atasi Konar, Clinical Dietician and Nutritionist explains, "carrots contain vitamin K, calcium, phosphorus, vitamin C, B complex, antioxidants and minerals, such as iron, zinc or manganese. These nutrients contribute to bone health by supporting the collagen production needed to build connective tissue and wound healing. Also, these nutrients prevent the body from harmful free radicals, regulate bowel movements, and decrease the risk of high blood pressure, heart disease, cancer and even osteoporosis".
We asked Dt. Konar about quantity of carrots advisable to each age group. In response, she provided an estimated quantity of carrots per day for each age group. She said, "Babies can have one a carrot and toddlers between age two to three can have two carrots. Young children between age four to eight can have three carrots. Children between age nine to 13 can have four to five carrots. Teenagers between age 14 to 18 can have five to six carrots. Adults between age 19 to 50, can have six carrots. Lastly, older adults age 51 or above can have four to five carrots within a day".
THIP MEDIA TAKE: Incorporating carrots in the diet can help with strengthening bones. However, eating excessive carrots may cause beta-carotene and vitamin A toxicity. Therefore the claim stands Half-True.
Disclaimer: Medical Science is an ever evolving field. We strive to keep this page updated. In case you notice any discrepancy in the content, please inform us at [email protected]. You can futher read our Correction Policy here. Never disregard professional medical advice or delay seeking medical treatment because of something you have read on or accessed through this website or it's social media channels. Read our Full Disclaimer Here for further information.