Quick Take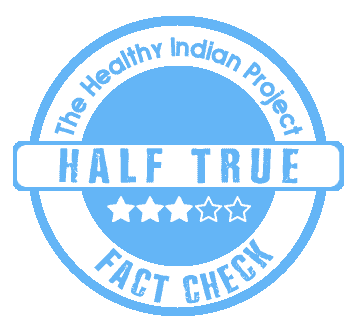 Multiple YouTube videos claim that consuming carrots and carrot juice will prevent osteoporosis. We fact checked and found that the claim is Half True.
The Claim
YouTube videos that can be seen here and here, claims that carrots can prevent osteoporosis. Carrot has been projected as a superfood for bone health by many other blogs too.
Fact Check
Why osteoporosis occur?
Osteoporosis is a bone disease affecting older people. As we grow old, bone mineral density and bone mass decreases, and the structure of bone changes. This can lead to a decrease in bone strength and overall bone density as the holes in the honeycomb structure become larger. It further increase the risk of fractures (broken bones).
Can carrots prevent osteoporosis?
No. Regular carrots cannot single-handedly prevent osteoporosis.
The myth probably arose from a particular research findings where researchers created a genetically modified carrot that can help human bodies to absorb more calcium. This specially created carrots can absorb 41 per cent more calcium than from a regular carrot and is believed to be able to help in in preventing osteoporosis. This is different from regular carrots available in the market and scientists noted that the commonly available "fruit and vegetables are good for you for many reasons, but they have not been a good source of calcium."
Other than that, carrots and all vegetables are naturally healthy and good addition to diet. A research has shown that diet rich in fruits and vegetables can be linked for prevention of osteoporosis. But the findings had its limitation. For one, the study was done on Chinese population. Given that osteoporosis is also caused by a number of genetic factors, more studies are required on varied population. The results also seemed to be favourable only for people with lower BMI.
Dr (Prof) Puneet Mishra – Additional Director & Unit Head – Orthopaedics, Fortis Hospital, Shalimar Bagh, Delhi, says, "A healthy, balanced diet can always be helpful in preventing the occurrence or progression of osteoporosis. You need calcium and vitamin D for bone health in addition to adequate amount of dietary proteins in your diet. You will also need to give up sedentary lifestyle and control your weight if you want to prevent osteoporosis. Depending on a single fruit or vegetable and neglecting all other factors cannot prevent osteoporosis."
Are carrots nutritious and good for bone health?
Yes. Carrots have a good nutritious profile. They are rich in vitamins, minerals, fiber and are also a good source of antioxidants. They are also very low in Saturated Fat and Cholesterol. Carrots are studied for their positive effect in preventing heart disease, decreasing risk of cataract formation and inhibiting cancer.
However, eating carrots in excess have been linked with Vitamin A toxicity, allergies, and flatulance.
Disclaimer: Medical Science is an ever evolving field. We strive to keep this page updated. In case you notice any discrepancy in the content, please inform us at [email protected]. You can futher read our Correction Policy here. Never disregard professional medical advice or delay seeking medical treatment because of something you have read on or accessed through this website or it's social media channels. Read our Full Disclaimer Here for further information.