Quick Take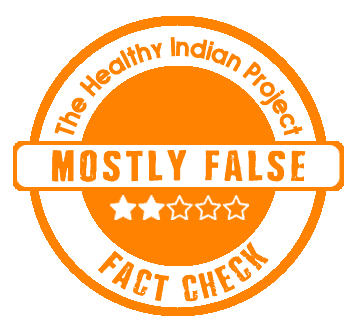 A social media post claims bitter gourd juice contains beta-carotene, and drinking one glass of juice daily helps improve eyesight. We fact-checked and found the claim to be mostly false.
The Claim
An Instagram post claims, "Drinking 1 Glass of Karela Juice Daily Helps to Improve Your Eyesight and also helps to get rid of specs when used regularly as it contains Beta – Carotene Which is Good for your Eyes".
Fact Check
What is Beta-Carotene?
Beta-carotene is a carotenoid and an antioxidant that prevents cellular and tissue damage. A study (2020) has shown that 'β-carotene is a precursor of vitamin A that essentially functions in many biological processes including vision. The human macula lutea and eye lens are rich in lutein, zeaxanthin, and meso-zeaxanthin, collectively known as macular xanthophylls, which help maintain eye health and prevent ophthalmic diseases'.
Can bitter gourd (Karela) juice improve eyesight?
No. There is no evidence that suggests bitter gourd juice can improve eyesight.
A study published in ScienceDirect confirms that the β-carotene in bitter gourd synthesize vitamin A and a deficiency of vitamin A in humans can cause dry eyes or lead to blindness. However, this does not establish that β-carotene can reverse any already caused damage to eyes.
Again, there is no evidence to the claim that drinking bitter gourd juice daily can help with getting rid of specs.
Eye specialist Dr. Pradeep Dahale, MS, DNB, says, "Eyeglasses are given by Ophthalmologists or Optometrists to correct vision. These glasses are given to correct vision problems that occur due to anatomical variations of eyeball dimensions. Diet supplements can't alter eye dimensions like axial length, Corneal Curvature, etc. So, it is naive to believe that you will be able to correct your vision naturally and take your glasses off just by diet supplements."
Dr. Naveen Gupta, DNB (Ophthalmology) further adds, "There is a difference between 'good for eye health' and 'can improve vision'. Most people confuse the two. But by improving eyesight if u mean that the eyeglass number can be reduced, then it is wrong to claim such things. Eye health can be maintained by taking proper diet and adapting healthy lifestyle."
Disclaimer: Medical Science is an ever evolving field. We strive to keep this page updated. In case you notice any discrepancy in the content, please inform us at [email protected]. You can futher read our Correction Policy here. Never disregard professional medical advice or delay seeking medical treatment because of something you have read on or accessed through this website or it's social media channels. Read our Full Disclaimer Here for further information.