Quick Take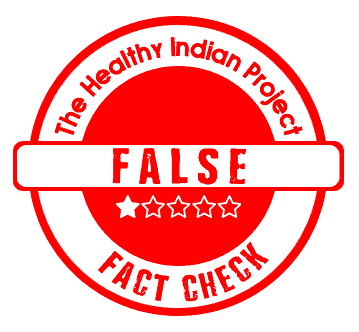 A social media post claims that baldness or hair loss can be treated with an oil named batana oil. We fact-checked and found this claim to be False.
The Claim
In a Facebook reel, the narrator states, "There's this guy, I think his name is Doctor Truth, and he sells this oil; it's grown only in Honduras, and I think it's called batana oil."
Fact Check
What is male or female pattern baldness?
Pattern hair loss is a form of progressive hair loss characterized by the gradual loss of terminal hair on the scalp in a characteristic distribution. In male-pattern baldness, hair loss starts at the front of the head and recedes to the back until the person goes bald.
But female-pattern baldness starts at the part line, sometimes appearing all over the head. Here, the hair at the temples may also recede.
Dr. Nilam Jain Kothari, Consultant Dermatologist at Masina Hospital in Mumbai, explains, "Androgenetic alopecia or male pattern baldness and female pattern baldness (hair loss) is the commonest form of alopecia, affecting 58% men in 30 to 50 years age group and around 6% to 38% in women across all age groups. Patients may manifest symptoms as early as puberty. This pattern of alopecia can be genetic or hormonal in etiology."
How does alopecia affect the hair cycle?
The National Institute of Arthritis and Musculoskeletal and Skin Diseases states that Alopecia areata is a disease in which the immune system attacks the hair follicles, causing hair loss. Hair follicles are the structures in the skin that form hair. While hair can be lost from any part of the body, alopecia areata usually affects the head and face. Hair typically falls out in small, round patches about the size of a quarter, but in some cases, hair loss is more extensive. Most people with the disease are healthy and have no other symptoms.
Dr. Kothari adds to this by stating, "There are other common forms of alopecia like alopecia areata and lichen planopilaris which are autoimmune in nature, trichotillomania, which is due to a compulsive habit of hair pulling, fungal or bacterial infections of the scalp and many more. A patchy form of alopecia is most commonly due to alopecia areata or localized scalp infections.
Alopecia alters the anagen phase of the hair cycle, declines hair diameter and increases the waiting period between hair fall and the onset of regrowth.
The stages of hair growth begin with the anagen phase. It is the longest phase which grows the hair out from follicles. In the next stage, catagen, hair follicles shrink, and hair growth slows. This stage is followed by the telogen phase, in which new hairs form in the follicles but haven't fallen out from the head. Lastly, hair shedding is marked by the exogen stage, where it is common for a person to lose 50 to 100 strands daily.
Can baldness or hair loss be treated with batana oil?
No. There is a lack of scientific evidence to prove that one can treat baldness with batana oil. In India and different parts of the world, oils have been used on the scalp with the belief that hair oils, in the long run, prevent hair loss. 
As per the product endorsed on Amazon, Batana Oil is extracted from the nuts of the American oil palm tree (Elaeisoleifera) by the Miskito people of La Moskitia, Honduras. 
Other than this, there is a lack of scientific literature on batana oil.
Hair loss can be caused by a variety of factors, including genetics, hormonal changes, medical conditions, and stress. While some natural oils, such as coconut oil and castor oil, have been found to improve the overall health of the scalp and hair, there is no scientific evidence to support the use of batana oil specifically for treating hair loss.
If you're concerned about hair loss, it's best to see a doctor or a hair specialist who can diagnose the cause and recommend an appropriate treatment. They may recommend medications, dietary changes, or other treatments that have been scientifically proven to help with hair loss.
What can be the dangers of trying to cure hair loss through home remedies and not seeking medical advice?
Home remedies to treat hair fall or loss don't necessarily cause problems for most people. Commonly used home remedies like oils, henna, onion juice, or aloe vera are not harmful to the scalp or hair. But some people can be allergic to raw ingredients. Allergic reactions often go on their own. However, it is better to consult a doctor if the symptoms last longer than expected.
Consultant Dermatologist Dr. Jyothy Kannangath, adds to this by saying, "People with allergies may develop a red rash, hives or welts, itchiness, inflammation or swelling in the affected area. Also, self-treatments can be dangerous as they may lead to infections if not applied properly. Prolonged application may lead to folliculitis, which causes small boils on the scalp."
Disclaimer: Medical Science is an ever evolving field. We strive to keep this page updated. In case you notice any discrepancy in the content, please inform us at [email protected]. You can futher read our Correction Policy here. Never disregard professional medical advice or delay seeking medical treatment because of something you have read on or accessed through this website or it's social media channels. Read our Full Disclaimer Here for further information.