Can wrinkles and age lines be treated with egg white, milk and apple?
Not exactly. The occurrence of wrinkles and age lines is a natural phenomenon due to irreversible structural and biological changes in the skin layers. No scientific evidence proves that this mixture can eliminate wrinkles. However, there have been scant studies which show that these ingredients individually possess anti-aging properties, further research is needed on this.
Quick Take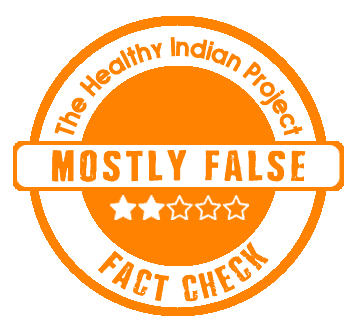 A social media post claims that you can get rid of wrinkles and age lines by applying a mixture of egg white, milk, and grated apple. We fact-checked and found this claim to be Mostly False.
Even though these ingredients separately might have some anti-aging effects, there is no scientific evidence that this mixture can eliminate wrinkles and age lines as aging is a natural process.
The Claim
A Youtube post with the title "Home Remedy to get rid of age lines and wrinkles" shares a video which describes a home remedy to eliminate wrinkles and age lines.
Fact Check
Why do wrinkles occur?
Wrinkles are creases, folds, or ridges in the skin which appear naturally as people get older. As a person ages, the skin becomes thinner and less elastic over time. However, certain other factors such as sun exposure, smoking, dehydration, some medications and environmental and genetic factors also play a vital role.
Blemishes and wrinkles are signs of skin ageing. Both signs occur due to irreversible structural and biological changes in the layers of the skin. However medical treatments under the guidance of experienced doctors can reduce the appearance of blemishes, wrinkles and other visible signs of ageing.
Our Dermatology expert, Dr. Jyothy Kannangath, describes the etiology behind wrinkles by stating, "Wrinkles occur as people age or due to repeated muscle contractions. As we age, the skin cells divide more slowly, and the middle layer of your skin, the dermis, begins to thin. The dermis has a network of elastin and collagen fibres, which offer support and elasticity. As this network loosens and becomes weak, depressions form on your skin's surface. Aging skin is also less able to retain moisture, less efficient in secreting oil and slower to heal. All of these factors contribute to the development of wrinkles."
Can a mixture of egg white, milk and apple help eliminate wrinkles and age lines?
Not exactly. Many factors affect the elasticity of the skin, such as sun exposure and diet. Getting wrinkles and age lines is a natural process and reversing it or eliminating it through an external application is not possible.
Moreover, on researching, we could not find any credible scientific evidence that proves that a mixture of egg white, milk and apple helps eliminate wrinkles and age lines. However, some studies on individual ingredients of this mixture that indicate anti-aging properties. However, one needs further research to prove this.
Eggs contain vitamin A, and applying vitamin A to the skin may promote wound healing and reduce wrinkles. A study that evaluated the effects of water-soluble egg membranes (WSEM) on wrinkle reduction concluded that applying WSEM can significantly reduce wrinkle depth by protection from free radical damage at the cellular level and induction of several antioxidant response elements.
But, there can be certain disadvantages of using eggs on the face for a few people. It can lead to skin irritation. Some people might have an allergic reaction and can experience specific symptoms such as severe itchiness, rash, hives, and breathing difficulties from using egg whites on their face depending on the severity of the disease. Similarly, if you have any recent cuts, scrapes, or wounds, the use of raw egg whites could potentially cause a secondary infection.
Similarly, apple is speculated to have anti-aging properties due to the presence of essential fatty acids that keeps the skin moist and plump. It is considered to minimize fine lines and wrinkles due to vitamins E and C. Research on anti-aging facial serum containing apple stem cell extract showed significant improvement in aging skin signs.
Similarly, milk is also considered to have anti-aging properties. Milk is considered to improve the skin's condition through various means, including antiaging effects. Furthermore, the amino acids also have positive effects on the skin, such as proline has antiaging properties, which reduce wrinkles and sagging.
However, further studies are needed to prove the efficiency of the application of these agents on the skin concerning the reduction or elimination of wrinkles and age lines.
Dr. Kannangath further clarifies this by stating, "Egg white, apple and milk are used as face masks which claim to tighten the skin. However, there is no scientific evidence to prove that this mask can reduce wrinkle formation, as skin ageing is an internal process.
Also, before applying egg whites to your face, do a patch test as it can cause an allergic reaction. This test involves applying a small amount of egg white to the back of the hand, under the chin, or behind the ear to see if it causes any allergic reaction."
Disclaimer: Medical Science is an ever evolving field. We strive to keep this page updated. In case you notice any discrepancy in the content, please inform us at [email protected]. You can futher read our Correction Policy here. Never disregard professional medical advice or delay seeking medical treatment because of something you have read on or accessed through this website or it's social media channels. Read our Full Disclaimer Here for further information.