Quick Take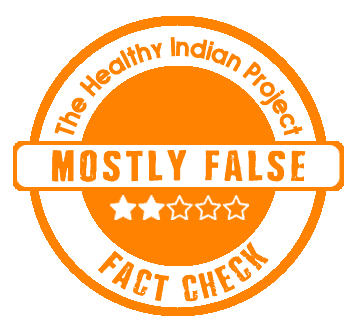 A social media post suggests that using apple cider vinegar helps in whitening teeth. We verified the claim's accuracy and found that the assertion is Mostly False. It may be able to kill microorganisms in short run but it might damage dental enamel, if used continuously.
The Claim
A you tube video suggests the use of diluted apple cider vinegar for about a month. According to the assertion this could help whiten teeth. The video is embedded below: 
Fact Check
What precisely does 'teeth whitening' mean?
Any procedure used to make teeth appear whiter is referred to as 'teeth whitening'. These whitening formulations include both conventional and all-natural remedies. Tooth whitening is required to remove stains of alcohol, tea, coffee, smoking, medications, etc., as they influence the color of the teeth.
Is apple cider vinegar harmful?
No. Fermented apple juice is used to make apple cider vinegar. It probably contains acetic acid, pectin, vitamins B1, B2, and B6, biotin, folic acid, niacin, and vitamin C. Acetic acid has the power to eradicate harmful 'bad bacteria' while encouraging the growth of 'good bacteria'. Furthermore, it serves as a natural antibiotic because it gets rid of harmful microbes. The skin, digestive system, and immune system can all benefit naturally from apple cider vinegar without experiencing any unfavorable side effects.
Does apple cider vinegar work well for teeth whitening?
Not really. Preparations using apple cider vinegar can be used in a variety of ways. It exhibits characteristics that whiten teeth. However, the acidity of ACV might damage dental enamel. Enamel is the term used to describe the mineralized outer coating of teeth. Also enamel deficiency can not be restored. It should be noted that when using apple cider vinegar as a homemade organic, natural tooth-whitening agent, the dilution used is frequently an issue. Moreover, there are additional issues with using ACV, like potential adverse effects. Thus, using apple cider vinegar (ACV) as a whitening agent without a doctor's advice is not recommended.
We asked Dr Pooja Bhardwaj, our dental expert, whether apple cider vinegar can be used for teeth whitening. She said, "Apple cider vinegar is known to have bleaching qualities that could remove tiny extrinsic stains and plaque buildup, making teeth appear cleaner. Because of its antiseptic characteristics, it may be able to kill microorganisms and prevent bad breath. However, one must keep in mind that the acidic nature of acetic acid may allow it to penetrate the tooth's outer layer, or enamel, which could result in more harm than good. For expert guidance, one should always speak with a dentist." 
Can one employ natural remedies to safely whiten teeth at home?
No, not always. Several methods can be used to naturally whiten teeth. Most of these procedures work by carefully removing surface stains from the teeth. However, compared to these at-home options, the majority of dentists provide substantially more effective whitening procedures. Additionally, these may be more effective for severely discolored teeth. It should be kept in mind that overusing teeth-whitening products can sensitize your teeth.
THIP MEDIA TAKE: We draw the conclusion that though apple cider vinegar claims to whiten teeth, regular and concentrated use may instead weaken the enamel. This can be due to its acidic nature. Since the detrimental effects cannot be disregarded. Further research would be necessary to determine whether apple cider vinegar can effectively whiten teeth. Therefore, we determine that the assertion is mostly false.
Disclaimer: Medical Science is an ever evolving field. We strive to keep this page updated. In case you notice any discrepancy in the content, please inform us at [email protected]. You can futher read our Correction Policy here. Never disregard professional medical advice or delay seeking medical treatment because of something you have read on or accessed through this website or it's social media channels. Read our Full Disclaimer Here for further information.