Is activated charcoal an effective tooth whitener?
No, not really. This is because activated charcoal's long-term efficacy and safety are in doubt because of its abrasive properties, tendency to darken teeth and fillings, and ability to increase tooth sensitivity. Hence, it should not be used on a daily basis without consulting a dental expert.
Quick Take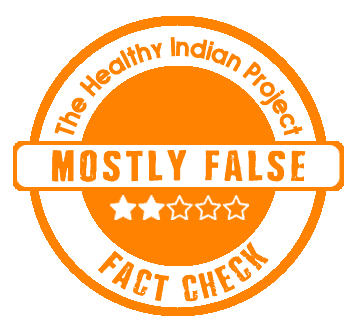 According to a well-liked YouTube video, activated charcoal can be effective as a tooth whitener. We verified the assertion. As per our research, the claim is Mostly False.
The Claim
A YouTube video "Activated Charcoal: Weird Way to Get White Teeth" recommends using activated charcoal with a toothbrush up to five times per week.
Fact Check
What causes staining of teeth?
Stains and tooth discoloration are frequent dental concerns that can happen for a variety of reasons. There are three main categories of tooth stains. They are internal, external, and even age-related tooth stains. External tooth staining, which can happen for a variety of reasons, can happen to anyone. Frequently, the cause is the consumption of foods, beverages, and tobacco products with colour, such as cigarettes, cigars, or chewable tobacco. It is possible for internal tooth staining to be brought on by tooth decay, injury, and even some medications. These tooth stains could be yellow, brown, grey, or even black in colour.
Can genes lead to tooth discolouration?
Yes, the colour of the teeth can also be influenced by genes. The enamel's thickness can be inherited, so depending on what runs in one's family, it may be thicker or more transparent. When the enamel is thin, the yellow-brown layer (dentin) underneath is more visible, giving the appearance of a darker or more yellow smile. Regrettably, whitening products and toothpaste might not be able to brighten the teeth of people who were born with naturally yellow teeth. It should be noted that genes may have an effect on both baby and permanent teeth.
Does activated charcoal work well for whitening teeth?
No, not right away. Activated charcoal is a common component of teeth-whitening toothpastes, but there isn't any substantial proof that it works to whiten teeth.
It is important to note that activated charcoal is essentially a fine-grained powder made from wood, coconut shells, and other natural materials that have been oxidized at high temperatures and might serve as an occasional surface cleaner and help with bad breath.
However, daily use of activated charcoal could harm enamel because of its abrasive nature. Furthermore, it has no effect on stains that seep beneath the enamel surface. Aside from these detrimental effects, activated charcoal can also result in tooth sensitivity, tooth staining, and cavity fillings. Concerns have also been raised regarding its safety and long-term effectiveness for teeth whitening.
When we asked Dr. Pratyasa Bagchi, our dental expert, about whether activated charcoal could whiten teeth, she cautioned that there was no proof that activated charcoal whitened teeth. The fact that activated charcoal acts as an abrasive cannot be ignored, despite the fact that it has been widely used in toothpastes for teeth whitening. However, while it undoubtedly gets rid of some surface stains, it cannot stop severe stains like yellowing or plaque development. Thus, it should only be used in moderation under the guidance of your dentist.
How can tooth staining be avoided?
Maintaining good oral hygiene requires the development of healthy habits. With a few clear and simple lifestyle changes, one might be able to prevent tooth discoloration. If one consumes a lot of coffee, one might want to cut back or switch to a suitable alternative. Additionally, a smoker should seek assistance to quit because smoking harms a lot more than just your oral health. Through daily tooth brushing, daily flossing, and biannual dental cleanings, one could improve their oral hygiene. In case of additional symptoms or a persistent abnormal tooth colour despite your best efforts to practice good oral hygiene, schedule an appointment with your dentist.
THIP MEDIA TAKE: We come to the conclusion that the claim overestimates activated charcoal's capacity for teeth whitening. It should be made clear that its long-term effectiveness and safety are questioned due to its abrasive nature, the tendency to darken teeth and fillings, and the potential to cause tooth sensitivity. Consequently, the assertion is mostly false.
Disclaimer: Medical Science is an ever evolving field. We strive to keep this page updated. In case you notice any discrepancy in the content, please inform us at [email protected]. You can futher read our Correction Policy here. Never disregard professional medical advice or delay seeking medical treatment because of something you have read on or accessed through this website or it's social media channels. Read our Full Disclaimer Here for further information.