Can toothpowder remove stains from teeth?
Toothpowder may remove surface stains caused by food, drinks, and smoking, but not deeper or intrinsic stains. The effectiveness of such tooth-whitening powder varies depending on the type and severity of discoloration. It can damage tooth enamel if not used under the guidance of a professional and may not be suitable for everyone, so consult with a dentist before use.
Quick Take
A social media post claims that anyone can whiten their teeth by removing discolouration and stains using a type of toothpowder. We fact-checked and found this claim to be Mostly False.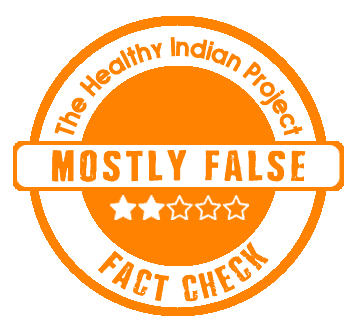 The Claim
A Facebook post with the caption, "The secret HACK to a stain-free, whiter smile" and the title, "Tired of yellow stained teeth" shares the video endorsing a product called "MySweetSmile tooth whitening powder" shows that one can whiten their teeth after brushing with this powder.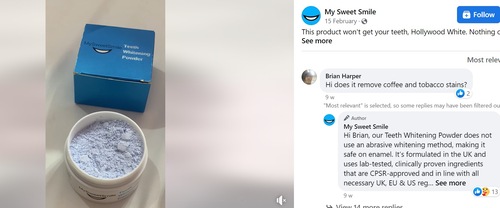 Fact Check
Is the natural color of teeth always white?
The natural color of teeth can vary naturally. Typically, they are a light to a medium shade of yellow or grayish-yellow, influenced by genetics, age, diet, and oral hygiene. Over time, the color may darken, and stains may appear on both the surface and within the dentine. Intrinsic discoloration can result from systemic or pulpal origins, while extrinsic stains enter the dentine through defects like cracks in the tooth. Children may also exhibit intrinsic stains before tooth emergence. External staining occurs due to excessive exposure to substances that discolor tooth enamel, such as alcohol, tea, coffee, or smoking. Additionally, plaque accumulation can also cause teeth to appear yellow.
Can a toothpowder whiten teeth in all cases?
Not exactly. Toothpowder such as the one endorsed in the claim, namely, MySweetSmile tooth whitening powder, is a product that is designed to help remove surface stains from teeth and promote a brighter smile. However, the effectiveness of this product may vary depending on the type and severity of discoloration of your teeth.
The product's effectiveness depends on the cause of the discoloration. Surface stains caused by food, drinks, and smoking can often be removed with whitening toothpowders. However, deeper or intrinsic stains caused by certain medications or trauma may not respond to toothpowders and may require professional teeth whitening treatments. Moreover, as mentioned above, in various cases, the natural colour of the teeth is not white.
However, it might be effective in a few cases due to the presence of certain ingredients, such as pentasodium triphosphate, which is a stain-dissolving agent. It can remove stains and brighten, lighten and whiten teeth. 
Our dental expert, Dr. Pooja Bhardwaj, comments on this by stating, "Tooth powder might contain certain abrasives like silica, Aluminium oxide, calcium pyrophosphate, charcoal, clay and herbs, which can erode the enamel. They may remove extrinsic stains from the tooth surface, thus making it look cleaner and whiter, but again it has no effect on transforming the natural colour and orientation of teeth. Herbs might promote gum health by increasing circulation. It might also lead to bleeding, gum loss and wearing of enamel. Thus it can do more harm than good."
It can damage tooth enamel if used too frequently or aggressively. It is important to follow the instructions on the packaging and consult with a dentist before using any teeth whitening product.
Overall, while toothpowders may be effective for whitening teeth in some cases, they may not be suitable or effective for everyone, and it is important to discuss your options with a dental professional.
What at-home preventative measures can be taken for tooth stains?
Please be aware that only external stains can be avoided, whereas internal stains affect the internal structure of the teeth and are, therefore, challenging to prevent. Since lifestyle choices are the main cause of external stains, therefore, tooth discoloration can always be avoided by eating a high-fibre diet, drinking lots of water, and brushing and flossing on a regular basis. Avoiding smoking, consuming acidic juices and beverages, and limiting the consumption of foods and beverages that can stain teeth, such as cola, coffee, and red wine, are additional preventive measures.
Disclaimer: Medical Science is an ever evolving field. We strive to keep this page updated. In case you notice any discrepancy in the content, please inform us at [email protected]. You can futher read our Correction Policy here. Never disregard professional medical advice or delay seeking medical treatment because of something you have read on or accessed through this website or it's social media channels. Read our Full Disclaimer Here for further information.