Quick Take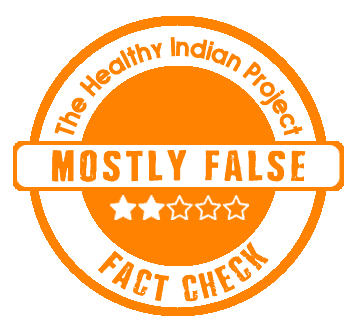 Multiple social media posts and health blogs claim flaxseed oil and honey remove moles and warts. We fact-checked the claim and found it to be False.
The Claim
"Use honey with a little bit of flaxseed oil. Mix a little bit of honey and flaxseed oil and apply it onto the mole of your skin. This paste can get rid of all your moles and warts" reads a social media post. The post can be found here.
Fact Check
What are moles and warts?
A mole is a skin growth that looks black or brown. It develops when pigment-producing cells called melanocytes grow in groups. It is normal to have 10 to 40 moles till 25 years of age.
A wart is a dermatological condition that causes small and fleshy growth on the skin. Also known as Verruca vulgaris, a wart is caused by Human Papillomavirus (HPV).
How to treat moles and warts?
A dermatologist can either cut the mole and stitch the skin or use a surgical blade to remove the mole. However, research suggests a doctor may further examine the mole as overgrowth of cells is a sign of skin cancer.
A wart often goes away on its own. However, a dermatologist may want to cut it or use Cantharidin to provide instant relief. The doctor may also use Cryotherapy or Electrosurgery for a soft wart. Also, if the wart is hard the doctor can recommend Immunotherapy, Laser treatment, Chemical peels and Bleomycin.
Can flaxseed oil and honey remove moles and warts permanently?
No. This is a popular home remedy suggested by many blog posts with no scientific evidence to back the claim. No study suggests that flaxseed oil and honey can remove moles permanently. Though flaxseed oil and honey have many skin benefits, they cannot treat moles and warts. Experts further believe that home remedial methods of mole removal can worsen the situation.
Dr Smriti Naswa, Clinical, Pediatric & Cosmetic Dermatologist, says, "A mole is a deep-seated nest of Melanin (birthmark) with its seat at the lower dermis. A mole should be removed by a Dermatologist or Plastic Surgeon with a minimal scar. However, a wart is a viral infection in the skin that spreads by touching. A 'do it yourself' process can spread it. A wart should be removed with the help of a Radio-Frequency or CO2 laser by a Dermatologist".
Disclaimer: Medical Science is an ever evolving field. We strive to keep this page updated. In case you notice any discrepancy in the content, please inform us at [email protected]. You can futher read our Correction Policy here. Never disregard professional medical advice or delay seeking medical treatment because of something you have read on or accessed through this website or it's social media channels. Read our Full Disclaimer Here for further information.