Quick Take
A video on social media claims that mixing Vicks VapoRub with baking soda can kill mosquitoes in one minute. We fact-checked and found the claim to be Mostly False.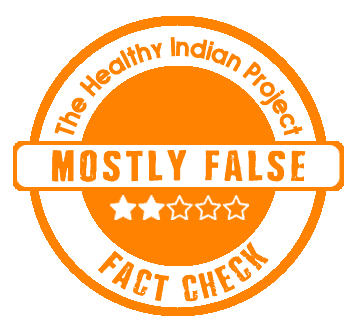 The Claim
A video on Facebook recommends mixing Vicks vaporub with baking soda along with water to kill mosquitoes. The video further shows pouring the mixture into a mosquito-repellent refill bottle.
The video has received 143K likes and 80K shares till we last checked.
Fact Check
Can a mixture of Vicks VapoRub and baking soda kill mosquitoes in one minute?
No. There is no scientific evidence that can confirm a mixture of Vicks VapoRub and baking soda kill mosquitoes in one minute. However, evidence suggests that Vicks VapoRub has ingredients that can repel mosquitoes.
The U.S. Centers for Disease Control and Prevention (CDC) website has provided a list of chemicals that can repel mosquitoes. The available evidence shows that Vicks vaporub has some ingredients from the list mentioned on the CDC website.
Likewise, the CDC website also mentions that applying a mixture of baking soda and water can reduce itchiness due to mosquito bites.
This evidence nowhere confirms that a mixture of Vicks VapoRub and baking soda can kill mosquitoes in one minute.
Dr Swati Watwani, Dermatologist and Medical Director, Co-Founder & Chief Consultant, Persianlily – Skin/Hair/Aesthetics/Ayurveda Clinic, informs 'The combination might have some amount of repelling qualities and soothing properties and it can act as a calming lotion. But it surely does not work as effectively as a mosquito repellent. The camphor oil found in the products like Vick's vaporub has some insect repelling qualities. So, it might not work as efficiently as a mosquito repellent. Vicks vaporub also contains menthol which exhibits anti-inflammatory properties that can help to reduce the swelling inflammation and and itchiness.'
Dr Watwani further informed that 'Baking soda is known to neutralize the skin pH and fight infection. Baking soda has soothing properties, as it can alleviate the redness. So, baking soda can reduce itching and stinging post mosquito or bedbug bites.'
Disclaimer: Medical Science is an ever evolving field. We strive to keep this page updated. In case you notice any discrepancy in the content, please inform us at [email protected]. You can futher read our Correction Policy here. Never disregard professional medical advice or delay seeking medical treatment because of something you have read on or accessed through this website or it's social media channels. Read our Full Disclaimer Here for further information.