Quick Take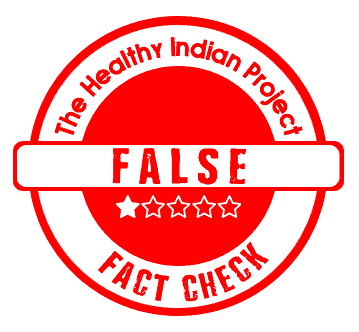 A number of Facebook posts claim that a mixture of Lemon Juice with Baking Soda (Sodium Bicarbonate) will help kill the novel Coronavirus within the human body. A few such posts also claimed that this mixture has prevented any Covid related death in Israel. We fact-checked and found that the claim is False.
The Claim
One such post claims, "mix lemon and baking soda (soda bicarbonate) and drink it as hot tea every afternoon, the action of the lemon with hotter baking soda will immediately kill the virus".
Another post adds to the claim, "the cure for Covid-19 or the way to eliminate it was achieved. Information comes from Israel where no death has been reported from Covid-19."
Such posts can be seen here, here, here, and here.
A snapshot is also given below.
Fact Check
Are there no deaths due to COVID-19 in Israel?
As per data accumulated by World Health Organization (WHO), till July 13, 2021, there are around 6439 deaths due to COVID-19 (Screenshot below). The country has implemented the vaccination program and has administered 10,806,061 doses till July 3, 2021.
So, the claim that Israel has no death or is saved due to the Lemon Juice-Sodium Bicarbonate mixture is completely false.
Can Lemon and Sodium Bicarbonate change the ph of the body?
We have encountered the claim of changing pH balance of the body to treat multiple diseases like Cancer before.
As per medical research, the pH of the body cannot be changed due to diet. The only condition when the body's natural pH changes is when a person suffers from a medical condition called acidosis.
We talked to Dr. Manish Singhal, Senior Oncologist who confirmed, "The human body has a pH of around 7.4. a slight change in the pH balance of the body will make you very sick and can land you up in ICU. Hence, any idea of changing the pH balance of the body through food and thereby killing a virus, bacteria, or any disease is unscientific"
Can the mixture of Lemon and Sodium Bicarbonate act as a cure for COVID-19?
While multiple research is underway, so far, only the COVID-19 vaccines seem to be the only way of handling the pandemic. Lemon and Sodium bicarbonate is neither scientifically proven as a cure or approved by the World Health Organization (WHO) as a treatment to COVID-19.
Disclaimer: Medical Science is an ever evolving field. We strive to keep this page updated. In case you notice any discrepancy in the content, please inform us at [email protected]. You can futher read our Correction Policy here. Never disregard professional medical advice or delay seeking medical treatment because of something you have read on or accessed through this website or it's social media channels. Read our Full Disclaimer Here for further information.