Is it possible to address intestinal inflammation with a juice recipe?
Not Exactly. Intestinal inflammation will not be reduced by a herbal juice recipe. This is due to the possibility that the condition is inherited or caused by viral or bacterial infections, both of which would necessitate medical attention. Nonetheless, nutrition plays an important role in the management of bowel swelling, but it is not a complete treatment.
Quick Take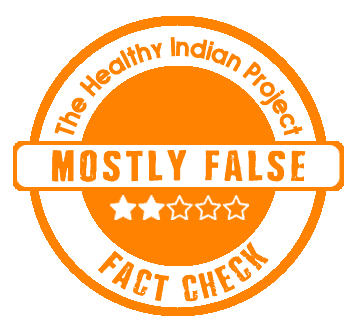 A viral Instagram post claims that drinking a juice recipe made of pineapples, cucumbers, and ginger could effectively reduce gut inflammation and swelling. We double-checked the assertion. Our research determined that the claim is Mostly False.
The Claim
According to an Instagram post titled "Did You Know?" a herbal juice recipe may help reduce intestinal inflammation. Furthermore, the post emphasizes its role in removing excess water from the intestines.
Fact Check
What factors contribute to intestinal inflammation?
Inflammatory bowel disease (IBD) primarily causes inflammation and even ulcerative lesions in the intestines, where most of the body's nutrients are absorbed. The precise cause of the condition is unknown; however, it is caused by familial influences or incorrect immune responses to environmental triggers, such as a virus or bacteria, which induce bowel inflammation.
Can the juices of cucumber, pineapple, and ginger aid in the reduction of intestinal inflammation?
No, there is no compelling evidence. Although the herbal juice containing pineapple, cucumbers, and ginger may aid in digestion and detoxification, there is no evidence that the three ingredients may reduce gut inflammation.
Pineapple is a natural anti-inflammatory fruit that influences digestion. It is high in calcium and potassium and low in fat and cholesterol. It is high in vitamins B1, C, and B6, as well as copper antioxidants and dietary fiber. Bromelain has been shown to play an important role in reducing swelling in inflammatory conditions such as acute sinusitis, sore throat, arthritis, and gout, as well as in speeding recovery from injuries and surgery. In contrast, pineapple has no effect on gut inflammation.
The cucumber is a nutritious fruit with numerous health benefits. It regulates hydration, blood pressure, and sugar levels; soothes the skin; aids digestion; reduces fat, and helps with weight loss. This is because it is high in potassium, fiber, magnesium, manganese, and vitamins A, C, and K. Cucumber has several health benefits, but our research did not find enough evidence to support its role in reducing intestinal inflammation.
Ginger has anti-inflammatory and antioxidant characteristics. It has also traditionally been used to treat diarrhea, stomach upset, indigestion, nausea, and menstrual irregularities. Furthermore, there is scientific evidence that ginger can help with nausea and vomiting after pregnancy, surgery, or motion sickness, as well as inflammation and pain. Nevertheless, it does not contribute to reducing gut inflammation. Although ginger is generally considered to be safe, it can sometimes cause minor side effects such as heartburn, gastric irritation, diarrhea, and even abdominal pain.
We checked with dietician, Kamna Chauhan, if cucumber, pineapple, and ginger juices could help reduce intestinal inflammation. She explained that, "The juice recipe could help relieve the symptoms, but only if consumed in moderation. This is due to the high nutrient content of the three ingredients. Cucumbers are high in vitamins K, B, and C, as well as minerals like potassium and magnesium, which may help to 'cool' an induced inflammatory response in the body. While pineapple is high in vitamins, minerals, and bromelain, it may have an anti-inflammatory effect, and ginger is a natural cyclooxygenase inhibitor with a variety of other anti-inflammatory characteristics. So, when they're all combined in a juice recipe, intestinal inflammation could be reduced.
Is dietary intervention useful in reducing gut inflammation?
Yes, a well-balanced diet is essential for reducing intestinal inflammation. Consuming too few nutrient-dense foods may increase the risk of malnutrition, and inadequate nutrition can cause fatigue and make healing difficult. This is because GI tract inflammation and symptoms such as diarrhea and stomach pain could prevent adequate nutrient, fluid, and electrolyte absorption. Thus, dietary management necessitates the participation of both the physician and the dietician. Multivitamins, limited dairy products, consuming gluten free diet, small meals, and plenty of liquids are typically prescribed to patients with intestinal inflammation.
THIP MEDIA TAKE: We conclude that while the herbal juice recipe may aid in detoxification, it may not be effective in relieving intestinal swelling completely. This is due to the fact that the condition could be inherited or caused by viral or bacterial infections, which would require medical management. Therefore, the assertion is mostly false.
Disclaimer: Medical Science is an ever evolving field. We strive to keep this page updated. In case you notice any discrepancy in the content, please inform us at [email protected]. You can futher read our Correction Policy here. Never disregard professional medical advice or delay seeking medical treatment because of something you have read on or accessed through this website or it's social media channels. Read our Full Disclaimer Here for further information.