Quick Take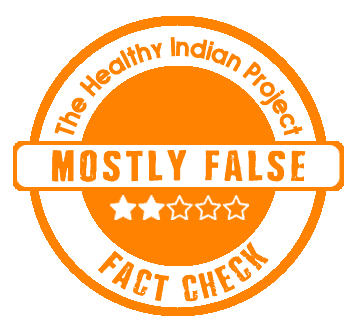 A social media post is claiming that the symptoms of Omicron variant of coronavirus are different. We fact checked and found that there is a lack of data to support the claim. Hence, the claim is mostly false.
The Claim
'Be sure to wear a mask, because the new COVID-Omicron variant coronavirus is different, deadly and not easy to detect correctly' says a social media post. The post can be found here and a screenshot is given below.
Fact Check
What is Omicron?
Omicron is a variant of Coronavirus which was designated as a variant of concern on the advice of WHO's Technical Advisory Group on Virus Evolution (TAG-VE) on November 21. Omicron has several mutations that may have an impact on how it behaves, for example, on how easily it spreads or the severity of illness it causes.
Are the symptoms of Omicron different?
No, there is currently no information to suggest that symptoms associated with Omicron are different from other variants. Initial reported infections as per WHO were among university students—younger individuals who tend to have more mild disease—but understanding the level of severity of the Omicron variant will take days to several weeks.
As per UNICEF, there is no information to suggest that Omicron causes different COVID-19 symptoms from other COVID-19 variants.
Is Omicron more deadly?
Omicron is a new variant of Coronavirus and research is still going on to find a conclusive answer to this. According to WHO, 'It is not yet clear whether infection with Omicron causes more severe disease compared to infections with other variants, including Delta. Preliminary data suggests that there are increasing rates of hospitalization in South Africa, but this may be due to increasing overall numbers of people becoming infected, rather than a result of specific infection with Omicron.
All variants of COVID-19, including the Delta variant that is dominant worldwide, can cause severe disease or death, in particular for the most vulnerable people, and thus prevention is always the key.
Is Omicron not easily detectable?
According to the WHO notification updated on November 20, 2021, the PCR tests continue to detect infection, including infection with Omicron, as we have seen with other variants as well. Studies are ongoing to determine whether there is any impact on other types of tests, including rapid antigen detection tests.
The Centre for Disease Control and Prevention states that 'More data is needed to know if Omicron infections, and especially reinfections and breakthrough infections in people who are fully vaccinated, cause more severe illness or death than infection with other variants.'
Hence, the claim is mostly false as there is not enough evidence to support the claim. Research is going on worldwide to reach a conclusion. Until then, prevention is the only key.
Disclaimer: Medical Science is an ever evolving field. We strive to keep this page updated. In case you notice any discrepancy in the content, please inform us at [email protected]. You can futher read our Correction Policy here. Never disregard professional medical advice or delay seeking medical treatment because of something you have read on or accessed through this website or it's social media channels. Read our Full Disclaimer Here for further information.