Quick Take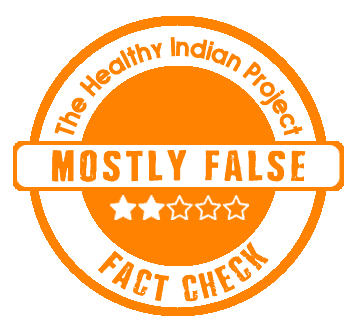 A Health article on a media website suggests that nutraceuticals (health supplements derived from foods) are completely side-effects-free. We fact-checked and found that the claim is mostly false.
The Claim
In an article titled Boost Your Immunity With Nutraceuticals: But Know The Benefits And Side-Effects on the health information website The Healthsite, the author claims that there are "no side effects or deterioration to health caused by including food rich in nutraceuticals in one's diet."
An archived version of the post can be seen here. A snapshot is given below.
Fact Check
What are nutraceuticals?
Nutraceuticals are health supplements derived from food materials. They are lesser controlled products that are generally thought to be beneficial for overall well-being. Common examples of nutraceuticals will include antioxidants, dietary supplements, fortified dairy products, and citrus fruits, and vitamins, minerals, herbals, milk, and cereals.
Are nutraceuticals healthy?
Nutraceuticals do not have an internationally accepted definition across the world and the regulation and quality of the products vary from country to country. From a safety point of view, nutraceuticals are trusted products even if they are not properly regulated or quality controlled like pharmaceutical products.
A number of research done on nutraceuticals have proven them to be effective prevent chronic diseases, improve health and support the structure or function of the body. However, researchers still believe, "Despite the success, most nutraceuticals have not been scientifically studied and validated for their efficacy."
Are nutraceuticals completely side-effects free?
No. They are not. Nutraceuticals are largely healthy and effective but many products have side effects too, especially since their quality is not tightly controlled. In many areas, there is not enough clinical evidence available on long term effects of certain nutraceuticals to call them side-effects free.
Scientists have noted, "Many nutraceuticals have potent effects and are quite safe, so their risks need to be characterized and controlled. Certain side effects could come from nutraceuticals, including allergic reactions, insomnia, cardiac arrhythmias, interactions with other nutraceuticals and therapeutic drugs, excessive blood thinning, and other serious conditions."
In a detailed study done on the effect of nutraceuticals on cardiovascular diseases, researchers raise concern, "for most supplements and nutraceuticals, no evidence is currently available from long-term trials on morbidity and mortality. Detailed knowledge of specific health risks and pharmacological interactions for each individual compound is needed for the management of frail patients, such as children, the elderly, patients with liver or renal failure, high-risk patients, and patients consuming numerous drugs."
In another study of the effect of nutraceuticals on the treatment of glaucoma, researchers make a similar note, "further rigorous evaluation of nutraceuticals in the treatment of glaucoma is needed to determine their safety and efficacy."
In a paper related to "Adverse effect of Nutraceuticals," researchers note, "patients often do not disclose supplement use to their physicians. Therefore, the risk of adverse drug-supplement interactions is significant."
Disclaimer: Medical Science is an ever evolving field. We strive to keep this page updated. In case you notice any discrepancy in the content, please inform us at [email protected]. You can futher read our Correction Policy here. Never disregard professional medical advice or delay seeking medical treatment because of something you have read on or accessed through this website or it's social media channels. Read our Full Disclaimer Here for further information.