Quick Take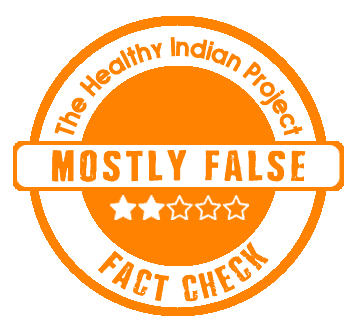 A social media post claims that masks essentially do not show any effect. It further claims that the vaccines are poor and unnecessary for most people as they have low risks and/or natural immunity. We fact-checked and found this claim to be Mostly False.
The Claim
A post on Twitter reads, "You science IS politics…Read the post below:
Fact Check
Are Facemasks beneficial in preventing the spread of COVID?
Mostly. Facemasks alone cannot prevent the spread of COVID, But, they are beneficial when used as a part of a comprehensive strategy against Covid. The Centers for Disease Control and Prevention also recommends the use of masks by stating, "Wear a Mask to Protect Yourself and Others."
According to the WHO, "Masks should be used as part of a comprehensive strategy of measures to suppress transmission and save lives; the use of a mask alone is insufficient to provide an adequate level of protection against COVID-19."
Are masks ineffective in preventing COVID?
Not exactly. Face masks can help slow the spread of coronavirus disease 2019 (COVID-19). Not all masks are equally effective in preventing COVID. Their effectiveness is dependent on the type of mask used and whether it was worn properly or not. CDC states, "Masking is a critical public health tool for preventing the spread of COVID-19, and it is important to remember that any mask is better than no mask."
It further elaborates by stating, "Loosely woven cloth products provide the least protection, layered finely woven products offer more protection, well-fitting disposable surgical masks and KN95s offer even more protection, and well-fitting NIOSH-approved respirators (including N95s) offer the highest level of protection."
A Research states, "A primary route of transmission of COVID-19 is via respiratory particles. Reducing disease spread requires two things: limiting the contact of infected individuals via physical distancing and other measures and reducing the transmission probability per contact. Current evidence indicates that mask-wearing reduces transmissibility per contact by reducing transmission of infected respiratory particles."
As per the research published in Wiley Public Health Emergency Collection, "One of the major strategies in preparedness and response to COVID 19 is an effective utilization of personal protective equipment (PPE) among which the masks of different kinds are on the top of the list, especially for activities in the public places." It further states that "For exhalation isolation, both surgical and N95 masks are shown to be effective in reducing the spread of respiratory diseases, but the former is more accessible and comfortable to wear compared to the latter. For inhalation protection, air filtering respirators such as N95 masks can filtrate contaminants, bacteria and other matters from reaching nose and mouth, and are more efficient in virus penetration inhibition than surgical masks."
How do vaccines work in general?
Vaccines work by providing immunity to a disease without getting you sick. They imitate an infection that teaches our immune system how to fight off future infections. WHO states, "Vaccines contain weakened or inactive parts of a particular organism (antigen) that triggers an immune response within the body. Newer vaccines contain the blueprint for producing antigens rather than the antigen itself. Regardless of whether the vaccine is made up of the antigen itself or the blueprint so that the body will produce the antigen, this weakened version will not cause the disease in the person receiving the vaccine, but it will prompt their immune system to respond much as it would have on its first reaction to the actual pathogen."
How do vaccines work against COVID?
There are various types of vaccines that work against COVID. These are mRNA Vaccines, Protein subunit vaccines, and vector vaccines. According to the CDC, "Different types of vaccines work in different ways to offer protection. But with all types of vaccines, the body is left with a supply of "memory" T-lymphocytes as well as B-lymphocytes that will remember how to fight that virus in the future.
Sometimes after vaccination, the process of building immunity can cause symptoms, such as fever. These symptoms are typical signs the body is building immunity."
Which vaccines are used in India?
According to the Ministry of Health and Family Welfare, "Two vaccines were granted emergency use authorization by the Central Drugs Standard Control Organization (CDSCO) in India, Covishield® (AstraZeneca's vaccine manufactured by Serum Institute of India) and Covaxin® (manufactured by Bharat Biotech Limited). Sputnik – V has been granted EUA in the month of April 2021."
Are vaccines unnecessary for most people?
Not exactly. Vaccines are the most effective way to prevent infectious diseases. A vaccine activates our immune system without making us sick. Many people believe that getting natural immunity is the best for them. However, the immune response can differ in people who get COVID-19 and recover from the illness. Also, getting infected may bring complications, which can worsen your health or even be fatal. Vaccination is a preventive measure which would help your body from getting infected in the first place. A study from the CDC in September 2021 showed that roughly one-third of those with COVID-19 cases in the study had no apparent natural immunity.
Disclaimer: Medical Science is an ever evolving field. We strive to keep this page updated. In case you notice any discrepancy in the content, please inform us at [email protected]. You can futher read our Correction Policy here. Never disregard professional medical advice or delay seeking medical treatment because of something you have read on or accessed through this website or it's social media channels. Read our Full Disclaimer Here for further information.