Is brushing teeth with your non-writing hand good for you?
No. Brushing teeth with a non-writing hand alters the amount of firm pressure needed for tooth cleaning. This is harmful to oral hygiene. Additionally, brushing your teeth with your non-dominant hand has no significant effect on brain function.
Quick Take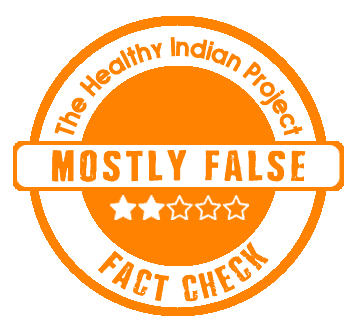 According to an Instagram post, brushing teeth with a non-dominant hand may improve brain function. We verified that the claim overestimates the benefits of brushing with the non-writing hand. Since, brushing with the non–dominant hand would compromise oral hygiene. Thus, our findings suggest that the assertion is Mostly False.
The Claim
According to an Instagram post titled "The Raw Fitness," brushing one's teeth with non-writing hand makes one's brain work faster and better than usual.
Fact Check
Where did the idea of using one's, non-dominant hand come from?
In the 1970s, several experts proposed and recommended training children to use their opposite hand for tasks that they would normally perform with their dominant hand. Various methods, however, have been widely used to investigate the concept of 'Handedness'. There is, nevertheless, no conclusive evidence that adaptability improves brain functions.
Does brushing with your non-dominant hand improve brain function?
No, not really. Using both dominant and non-dominant hands is simply a brain exercise. This merely helps to improve brain coordination between the two hemispheres. This adaptability, however, would help with neuroplasticity. This refers to the brain's ability to retrain itself to do things in new and different ways, which benefits its health, particularly after an injury. However, in our research, we were unable to find any concrete evidence to support the claim that brushing teeth with a non-writing hand has any positive impact on brain functioning.
Is brushing your teeth with your non-dominant hand good for you?
No. Please understand that handedness is a person's tendency to use one hand more comfortably than the other. Handedness is an important factor influencing performance in a variety of tasks, including oral health care. Brushing teeth with a non-dominant hand can reduce brushing pressure, which can lead to an increase in plaque buildup. This is due to the difficulty of handling the toothbrush with the non-dominant hand. Furthermore, people find it difficult to maintain their regular tooth-brushing technique with a non-writing hand. Although there are other methods for plaque control, such as flossing and mouthwashes, brushing twice daily is still a universal recommendation around the world. Therefore, its significance cannot be overlooked.
We asked Dr. Pooja Bharadwaj (BDS), our dental expert, if brushing teeth with a non-writing hand would be beneficial. She advised, "It is difficult to control movement with the non-dominant hand. This is due to the slower development of muscles in the non-writing hand. As a result, if the toothbrush is not used with sufficient force, the plaque deposit will remain adhered to the tooth surface, resulting in bad breath or cavities. Also using more pressure with the toothbrush increases the risk of abrasion or attrition, which is enamel loss, as well as the risk of hypersensitivity. Thus, pressure distribution should be equal if someone brushes with their non-dominant hand." However, for expert advice, always consult a dental professional.
How should you brush your teeth?
Brushing your teeth properly is essential for maintaining the health of your teeth and gums. Brushing your teeth can be done with a manual or electric toothbrush. Apply a pea-sized amount of toothpaste to a clean toothbrush. And always brush twice a day for two minutes with a fluoride-based toothpaste. Please do brush your teeth before going to bed. In addition, make certain that the toothbrush touches all tooth surfaces with firm pressure. If you experience any sensitivity, bleeding, or discomfort, please contact your dentist.
THIP MEDIA TAKE: As a result, we conclude that additional research is needed to assess the difference in the mental performance of people who brush their teeth with non-dominant hands. Furthermore, brushing with a non-writing hand may have a negative impact on oral hygiene. Therefore, the claim is mostly false.
­
Disclaimer: Medical Science is an ever evolving field. We strive to keep this page updated. In case you notice any discrepancy in the content, please inform us at [email protected]. You can futher read our Correction Policy here. Never disregard professional medical advice or delay seeking medical treatment because of something you have read on or accessed through this website or it's social media channels. Read our Full Disclaimer Here for further information.