Quick Take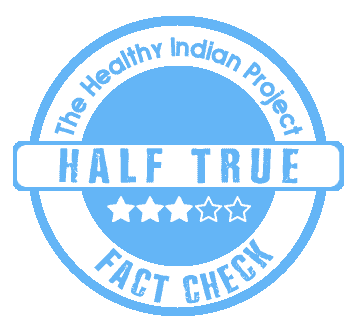 Does cold water cause cancer? Multiple posts across social media claims that drinking cold water after meals cause cancer. We talk to Cancer experts and find that the claims are false.
However, the same post also advocates drinking warm or hot water for better digestion referring to Chinese traditions. Our investigations find that researches have indeed shown digestive benefits of drinking warm water and there is indeed mention of the same in Chinese traditions. We rate this claim is true.
Hence we rate the entire post as half true.
The Claim
There had been multiple posts across social media that claims drinking cold water after meals will lead to cancer. The logic put forth in most arguments are that cold water will solidify the fats in the food material consumed and the same will lead to cancer.
The same post also advocates for drinking warm water to aid digestion.
The post has been shared for years on social media. Archived version of the same can be seen here, here and here. A snapshot of the same is given below.
Fact Check
Can cold water cause cancer?
This claim has been fact checked by many over the years. Fact Cheking website Snopes had checked the claim in 2006 and debunked it.
AFP had fact checked the same claim in 2019. Cancer specialists across the world have vouched for the fact that drinking cold water will not lead to cancer. Fact checkers across the world have talked to multiple experts who have clarified that "cold water causing cancer" is a myth. Here is a report of AFP where Cancer Council of Australia and American Cancer society have clarified the same point – drinking cold water after meals does not lead to formation of any solidified fat or 'sludge' or cause cancer.
In our Myth Buster section, Dr. Manish Singhal (MD, DNB – Oncology) also clarified the same. Watch the video below to hear his view.
Warm water vs Cold Water – is there an effect on digestion?
The Jury is still out on this. Arguments in favour and against of both hot and cold water are there. But there are obviously research findings that suggest that warm or hot water has beneficial effects on digestion.
In the war between hot water vs cold water, we are summarizing all we know so far based on multiple medical researches and different medical beliefs –
1) Drinking warm water or water at room temperature aids digestion and has multiple other health benefits. There is no evidence in favour of cold water slowing down digestion or causing any harm to health in normal conditions. However, if you are suffering from cold, cold water may worsen condition. (Source)

2) Researches have shown that sipping on cold water while exercising helps to keep your core body temperature lower and allow you to exercise longer. So, cold water is thought to be better when it comes to re-hydration. (Source here and here)

3) Researches have shown that people who drink only warm water, tends to drink less water. This leads to dehydration and negative effect on body. Water is the key ingredient for the body for digestion and other functioning.
4) According to Ayurveda if you regularly take warm water, especially in the morning, it can heal our body, providing digestive power and reduces the metabolic waste that could have built up in our immune system. Ayurveda advices against drinking cold water. The ancient Indian medical practice believes that drinking cold water puts out your digestive fire, leading to indigestion of the food in your stomach. (Source here and here)

5) Traditional Chinese medicine, like Ayurveda, advocates for drinking hot water. According to the traditional Chinese medicine, healthy is due to an internal balance of Yin and Yang. In the Yin-Yang theory, water is Yin-type while hot stuff is Yang-type, drinking hot water can enrich Yin and tonify Yang in your body, it keeps Yin and Yang in equilibrium.
Disclaimer: Medical Science is an ever evolving field. We strive to keep this page updated. In case you notice any discrepancy in the content, please inform us at [email protected]. You can futher read our Correction Policy here. Never disregard professional medical advice or delay seeking medical treatment because of something you have read on or accessed through this website or it's social media channels. Read our Full Disclaimer Here for further information.