Is the single-skin crocodile serum effective on all skin scars?
No, not really. There isn't a lot of evidence to back up the suggestion that crocodile oil can be used to treat different types of skin scars. Additionally, different skin scar types necessitate different treatments, and no one product can treat them all. Hence, always seek a dermatologist's advice for the best course of action for treating skin scars.
Quick Take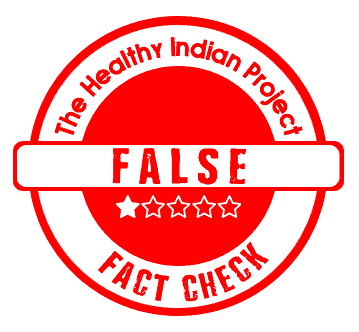 A popular Facebook post claims that all skin scars can be treated with a single crocodile scar serum. We reviewed the assertion. According to our analysis, the assertion is False.
The Claim
A you tube video titled "Dr. Manila – Top1 Scars treatment," promotes a product is secure and appropriate for all skin types. The article also emphasizes the use of a single product to treat various skin scars, including stretch marks, burn scars, burn scars caused by acne, and scars from burns. A screenshot of the video has been shared for your convenience.
Fact Check
Is the product depicted in the claim reliable?
No, absolutely not. For the purpose of confirming the product's authenticity, we conducted online research. We discovered that Dr. Manila Scar Removal Serum with Crocodile Oil is a widely available product online. However, the product's ingredients are not known to the consumers. Our search did not turn up any information regarding the exact concentration of the crocodile oil added, the quantity that must be applied, any precautions, or potential side effects of the product. Additionally, it should be emphasized that the FDA has issued a warning against using Dr. Manila Crocodile Scar Removal Serum. Therefore, it is advised against buying the product without first consulting a dermatologist.
Do all skin scars respond to the single-skin crocodile serum?
No, not really. Despite the fact that crocodile serum primarily contains crocodile oil (CO), it should be made clear that CO could help with skin burn wound healing and even skin inflammation despite having a low concentration of saturated fatty acids and a high concentration of omega-9 fatty acids. However, it must be acknowledged that these studies are only conducted on animals. Additionally, we were unable to find any research that indicated crocodile oil might be effective in treating all types of human skin scars.
Moreover, it should be noted that the body's healing process results in scars. And these could be raised, flat, depressed, keloid, contracted scars, or even stretch marks. Therefore, the type, extent, and location of the scar all have a significant impact on how it is treated. The patient's age, the age of the scar, and whether or not it hurts, or limits mobility all play a role in scar treatment. Because of this, it is impossible to treat all types of skin scars with a single product.
What is the most acceptable way to address the scars?
When the skin is cut or otherwise damaged, scars develop as a natural part of the healing process. When an injury occurs, the skin heals itself by producing new tissue to close the wound and fill in any gaps. A protein called collagen is primarily found in scar tissue. Because of this, they typically heal at their own pace. Some medical procedures prevent a scar from developing as a wound heals.
Please be aware that although certain treatments can lessen the size or appearance of a scar, the scar will never completely disappear. Sanding the scar, laser therapy, pressure therapy, skin grafting, prescribed corticosteroid injections, and prescribed topical creams and ointments are a few of the scar treatments available.
THIP MEDIA TAKE: We conclude that there isn't much scientific support for the idea that crocodile oil can be used to treat different kinds of skin scars. Additionally, there are various types of skin scars that require different treatments, and no one product can address all of them. As a result, the claim is false.
Disclaimer: Medical Science is an ever evolving field. We strive to keep this page updated. In case you notice any discrepancy in the content, please inform us at [email protected]. You can futher read our Correction Policy here. Never disregard professional medical advice or delay seeking medical treatment because of something you have read on or accessed through this website or it's social media channels. Read our Full Disclaimer Here for further information.