Quick Take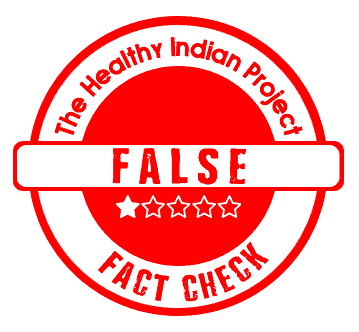 A social media post claims that rubbing Vicks VapoRub on feet at bedtime stops coughing permanently. We fact-checked and found the claim to be False.
The Claim

"Cough keeping you up at night? Put Vicks VapoRub on your feet and put on socks. The cough will stop permanently" claims a post. The social media post can be found here and a screenshot is given below.

Fact Check
What does Vicks VapoRub do?
Vicks VapoRub is a topical ointment that relieves the symptoms of cough and muscle pain caused by the common cold.
Vicks VapoRub acts as a temporary treatment for adults and children above two years. Research has shown that Vicks VapoRub is a better option than petroleum jelly or no treatment for cough, congestion and sleep difficulty due to throat and bronchial infection among children.
Does applying Vicks VapoRub on feet stop coughing permanently?
No. Vicks VapoRub cannot stop coughing permanently. It works as a temporary relief and the recommended application area is around "throat and chest"
The Vicks website states, "Although Vicks products cannot cure a cough, they can help stop constant coughing." Though usage of Vicks VapoRub beyond recommendation has been recorded in multiple studies, no scientific evidence has been found of their efficacy.
Doctor's Quote
Dr Sujata Chakravarti, Consultant-General Medicine, Hiranandani Hospital, Vashi says, "It is unlikely that applying Vicks to the feet would affect the symptoms of a cold. Although many people believe that Vicks provide temporary relief to the symptoms, there is little research into its effectiveness. The possible benefits of Vicks mostly come from inhaling the product, which means that it must be close to the nose. If Vicks is on the feet, it is probably too far away to breathe in. Vicks can also create a cooling sensation, which may help with hot flashes from a cold. However, Vicks does not lower body temperature. Therefore, it is unclear whether applying Vicks to the feet would have any effect other than providing a cooling sensation. Some people use Vicks to relieve minor muscle pain and aches. It is possible that applying Vicks to the feet could help with these symptoms in this area. However, it is important to note that Vicks does not treat a cold or can stop coughing permanently."
Disclaimer: Medical Science is an ever evolving field. We strive to keep this page updated. In case you notice any discrepancy in the content, please inform us at [email protected]. You can futher read our Correction Policy here. Never disregard professional medical advice or delay seeking medical treatment because of something you have read on or accessed through this website or it's social media channels. Read our Full Disclaimer Here for further information.