Does banana peels help get rid of acne?
No, not right away. Banana peel's antioxidant, anti-inflammatory, and antimicrobial qualities may be helpful in treating facial acne. Despite being a safe treatment option, banana peel is not a recognized treatment modality for acne treatment. Therefore, relying solely on banana peels to treat acne would be risky.

Quick Take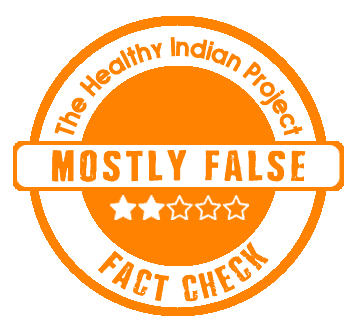 According to a Pinterest post, banana peels can be used to treat acne. We checked the assertion. The claim is mostly false, as we researched.
The Claim
A social media post with the title "Many Uses of Banana Peels" lists the many advantages of using banana peels. These primarily consist of treating warts, insect bites, and poison ivy, as well as haemorrhoids, minimizing the look of fine lines and wrinkles, and treating psoriasis. However, the post specifically highlights its use for treating acne by rubbing a banana peel on the affected area and then rinsing it off with warm water.
Fact Check
How do hormones influence the emergence of acne?
Acne occurs when the body produces too much sebum, an oil that prevents the skin from drying out. Sebum and dead skin cells congregate in a pore. An acne lesion or pimple may develop where the clogging is present.
Teenagers are particularly affected by the role that hormones play in the development of acne. The main contributing factor may be the high testosterone levels that occur during puberty. Acne in women may also be brought on by hormonal changes related to pregnancy or the menstrual cycle. Acne risk may rise around menopause as a result of declining oestrogen levels. conditions like PCOS that affect hormone levels. However, progesterone's function is still unknown. In addition, hormones such as insulin, glucocorticoids, and insulin-like growth factor may also have an impact on the development of skin acne.
Is banana peel effective against acne?
No, not right away. The fruit banana is nutrient-rich. After consumption, banana peels are regarded as typical waste and are usually discarded. The banana peel is one of the many parts of the banana plant that are used for its medicinal properties. Its burned product has evidence of its hallucinogenic effects. Its characteristics are largely influenced by fibers, phenolic compounds, tannins, saponins, alkaloids, steroids, flavonoids, and carbohydrates.
It is important to note that antioxidants found in banana peels prevent early skin aging and maturation. Bananas are thought to help acne by lowering vitamin A-induced skin inflammation. This is due to the presence of numerous bioactive components found in banana peels that exhibit anti-inflammatory characteristics which could be beneficial for acne. Moreover, antimicrobials banana phenols could be beneficial in reducing acne lesions. Nevertheless, banana peels lack the acne-fighting compounds present in the recognized anti-acne therapeutics. Therefore, further research would be required to confirm the role of banana peels in the treatment of acne.
Please understand that age, development stage, type, appearance, prior unsatisfactory treatments, and any spots or scars left over from the acne all play a role in determining the acne treatment plan. Physical therapies, photodynamic therapy, topical therapies, and systemic therapies are the most frequently used forms of treatment.
How does eating impact the skin?
The skin serves as a barrier between the human body and the environment and has the largest surface area of any organ in the human body. It has some cosmetic benefits in addition to shielding the body from environmental harm and preventing water loss. Skin health and diet are closely related, and both are necessary for all biological skin processes, including aging and disease. Please note that healthy eating and nutrition levels can restore damaged skin.
There is strong evidence that regular consumption of omega-3 fatty acids and low-GI and low-GL diets can reduce acne, despite the fact that dietary habits, which are essentially preferences for food or drink, are a significant aspect of dietary culture and are influenced by a variety of factors, including region, history, culture, the product, and others. Therefore, eating a low-glycemic index, low-fat, and low dairy diet helps with acne treatment.
THIP MEDIA TAKE: We come to the conclusion that due to the antioxidant, anti-inflammatory, and antimicrobial properties of banana peel, it may be beneficial in addressing facial acne. However, banana peel is not a recognized treatment modality for the treatment of acne, despite the fact that it is a safe therapeutic option. Consequently, the assertion is mostly false.
Disclaimer: Medical Science is an ever evolving field. We strive to keep this page updated. In case you notice any discrepancy in the content, please inform us at [email protected]. You can futher read our Correction Policy here. Never disregard professional medical advice or delay seeking medical treatment because of something you have read on or accessed through this website or it's social media channels. Read our Full Disclaimer Here for further information.