Quick Take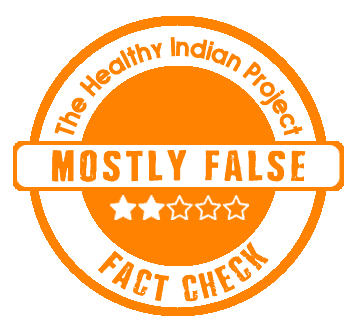 A lot of social media posts claim that 'Black Seeds' cures everything except death. We did a fact check and found this claim to be Mostly False.
The Claim
An Instagram post claims that "This ancient remedy 'cure all diseases' HIV, AIDS, Cancer, Diabetes, STDS, Strokes and Arthritis." The post can be found here and a screenshot is given below.
Fact Check
What are the health benefits of Black seeds?
Black seed (Nigella sativa), also called as Kalonji, is a highly valued nutraceutical herb with a wide array of health benefits. It is mainly used for cooking and in traditional medicine in India, Arab, and Europe. Its main bioactive component thymoquinone (TQ), have been manifested by their ability to attenuate oxidative stress and inflammation, and to promote immunity, cell survival, and energy metabolism, which underlie diverse health benefits, including protection against metabolic, cardiovascular, digestive, hepatic, renal, respiratory, reproductive, and neurological disorders. Furthermore, black cumin acts as an antidote, mitigating various toxicities and drug-induced side effects.
Can it cure HIV?
A Research by researchers from the University of Ibadan (UI)/University College Hospital (UCH), published in Journal of Herbal Medicine concluded: "This study concluded that the herbal remedy (α-Zam/Nigella Sativa and honey) is effective in the treatment of HIV infection based on a significant improvement in both the clinical features and laboratory results of HIV infection. However, a longer follow-up is suggested to ensure that the observed improvement is sustained. In addition, a large population study is needed to confirm the observation in this cohort of people."
But, these researches are inconclusive and lack support. Hence, more research is needed to draw conclusions.
According to Dr Saurabh Gaba, Associate Consultant, Internal Medicine, Paras Hospitals, Panchkula, "HIV cannot be cured by consuming black seeds. There is absolutely no scientific evidence to support this claim and delaying proper treatment can lead to life-threatening complications."
Can it cure Cancer?
Research states that it is effective against cancer in the blood system, lung, kidney, liver, prostate, breast, cervix, skin with much safety. The molecular mechanisms behind its anticancer role is still not clearly understood, however, some studies showed that Thymoquinone has antioxidant role and improves the body's defense system. There is not much research done yet and very few reports exist in the scientific database.
Can it be used for treating STDs?
No. Even though studies show that it is beneficial during an urogenital tract infection caused by a bacteria, Chlamydia trachomatis D (CtrD), a leading cause of sexually transmitted diseases. But, that is due to the antimicrobial spectrum in it's essential oil. However, this lacks research and there are many more types of STDs for which Black seed is not used.
According to Dr. Sujata Chakravarti, Consultant-General Medicine, Hiranandani Hospital, Vashi-A Fortis Network Hospital, "The claim is absolutely wrong. STDs require specific treatment depending on the causative agent and type. Arthritis also can be well controlled by proper exercise and specific medicines. Nigella seeds are a good source of antioxidants but do not have any miraculous medicinal properties. False Information like this can be fatal as people may stop their lifesaving medicines and delay scientific treatment based on such myths."
Therefore the Claim is mostly false as even though there are studies that support a little part of the claim, there is no good evidence as of now supporting them. The studies are done on animals but it lacks studies and effects on humans. It is seen to be helpful for a number of diseases but it isn't a cure for them.
Disclaimer: Medical Science is an ever evolving field. We strive to keep this page updated. In case you notice any discrepancy in the content, please inform us at [email protected]. You can futher read our Correction Policy here. Never disregard professional medical advice or delay seeking medical treatment because of something you have read on or accessed through this website or it's social media channels. Read our Full Disclaimer Here for further information.